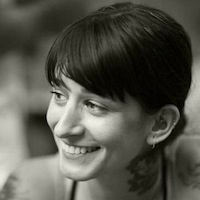 Filed by Jessie Dean Altman

|

May 12, 2017 @ 12:21pm
Some guys can barely write a greeting card for their girlfriends' birthdays. Not 17-year-old Chaz Adams, though. This dude basically wrote an entire book for his girlfriend's 18th birthday, a gift he told Elite Daily took him "a little less than three weeks" to complete.
i wrote my girlfriend a book for her birthday❤, turning the love i feel for her into words, i could go on for days about her😘. enjoy love❤ pic.twitter.com/HnQ2p4MuU1

— lil' Maiyah (@Chazzychazz_) May 7, 2017
On May 7, Adams posted a video on Twitter, flipping through the book to show that it was completely full of words and pictures about him and his girlfriend. Speaking to Elite Daily, Adams described the contents of the notebook: "I talked about why I do the things I do for her, I talked about how much I love her, I put pictures of our favorite memories together, I talked about our future and our past."
Adams told Elite Daily,
We both have had somewhat or a troubled past with relationships, so I made a promise to her when I first met her that I would do anything to make her smile, so I decided to keep my promise.

I've always wanted to express the love I had for her, but it was hard to. Until I started writing the book. Things began to flow a lot easier.
If the notebook alone isn't romantic enough for you, first of all, WHO ARE YOU AND WHAT IS YOUR LIFE?, and second, check out this amazing Twitter thread Adams wrote about his special lady.
today is my girlfriends birthday!!❤, and our 4 month anniversary😘, so here's a thread:

— lil' Maiyah (@Chazzychazz_) May 7, 2017
sooo where do i start? so the day i met her i've never been so nervous in my life, i legit could've pooped myself.

— lil' Maiyah (@Chazzychazz_) May 7, 2017
i fell in love at first sight. NOW I NEVER BELIEVED IN THIS!! but it's actually real

— lil' Maiyah (@Chazzychazz_) May 7, 2017
she was so delicate, a angel. but eventually i got the courage to get her number. and from that day on i promised her

— lil' Maiyah (@Chazzychazz_) May 7, 2017
and myself i wouldn't treat her like anyone else did.

— lil' Maiyah (@Chazzychazz_) May 7, 2017
thank you God for blessing me with this beautiful 18 year old angel. my prayers have been answered❤, i will treat her right always. pic.twitter.com/Sb5E9DxgBV

— lil' Maiyah (@Chazzychazz_) May 7, 2017
Naturally, people on Twitter can't even with the book.
@Chazzychazz_ I want somebody daughter to love me like this sir! Salute you for being the man you are👍👌👏💯

— TTBMJ (@TTBMJ) May 8, 2017
@Chazzychazz_ This is the most romantic thing I've ever seen in my life and I've watched Titanic

— Ness🍼 (@la_dispure) May 8, 2017
@Chazzychazz_ Little do you know I'm stealing this for me and girl anniversary.. Thanks in advance

— Flex Gawd (@LordVaughn_) May 8, 2017
Now Adams has just one problem—how the hell is he ever going to top this??