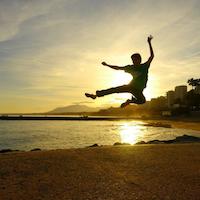 Filed by Mitchell Friedman

|

Feb 16, 2017 @ 9:15am
Kourtney and Leonard sat down, so close their knees were nearly touching, and talked about their relationship in a heart-wrenching video for The Scene.
The premise: "He cheated on her. Now she wants to know why."
Leonard either has a hard time showing emotion or he's the most cold hearted cheater to ever escape a Maury set. Point is, Kourtney got her answer and we got a few choice anecdotes. Like the time Kourtney walked in on Leonard with another girl and Leonard made Kourtney—his girlfriend—GO TO HER ROOM.
Despite the fact that Leonard is a remorseless monster, the two are still friends. At one point Leonard tells his ex he's happy he gets "a chance to see you grow into the woman that you're becoming."
Man, Leonard. You're gonna be a real weird dad someday. Anyway, the internet melted down, and the comments section was truly popcorn-time.
There were those who hated Leonard.
couldn't have been me, he told you to get out while he was with another girl? best friend or not, couldn't have been me.

— 🕊 (@_JSNE) February 15, 2017
don't understand how guys can get the girl they've been wanting then do them so bold like how????

— 🕊 (@_JSNE) February 15, 2017
his whole demeanour... it's like he almost wants to say "I was here to teach you a lesson. You're welcome!" I want to chop him

— Shan (@ShaniCares) February 15, 2017
ofc he wanted it that's a "best friend" you can go to after a long day of cheating and get some more action

— k0rtexti (@k0rtexti) February 15, 2017
And those that wondered why anyone would participate in this video.
I wouldn't put myself thru that. he didn't even seem too sorry..

— ✨👑 Calen (@iCalen_) February 16, 2017
You know what? It was pretty much just people hating Leonard.
his question "why didn't you just leave" like are you dumb?! He wasn't ready to commit yet "committed" like absolute scum!

— Shan (@ShaniCares) February 15, 2017
I Felt So Many Emotions For That Girl & I Wasn't Even The One Who Hurt Her. He Sat In Front Of Her & Didn't Choke Once Smh

— 65% Cocoa. (@DemiCaruso) February 15, 2017
his question "why didn't you just leave" like are you dumb?! He wasn't ready to commit yet "committed" like absolute scum!

— Shan (@ShaniCares) February 15, 2017