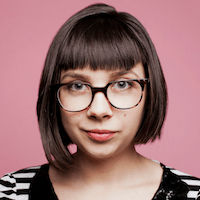 Filed by April Lavalle

|

Apr 27, 2017 @ 12:24pm
John and Evie of Minnesota have been married for over 70 years, so they definitely seem to have this whole "relationship" thing down.
According to BuzzFeed, the couple met in 6th grade, and went on their first date when they were 15. The rest is history.
To celebrate their most recent wedding anniversary, the couple's granddaughter Danni made a video of her grandparents revealing their secrets to a happy marriage. Of course, there are the usual things that many happy couples swear by— never going to bed angry, making each other laugh, etc...but things definitely took a turn toward the end of the video. Make sure you watch the whole way through.
This couple has been married for over 70 years and their advice is so beautiful <3 True love never fades.

Posted by Reasons to Smile on Monday, April 24, 2017
The real secret to a happy marriage?
BOOTY.
Of course, if that were actually true, Kim Kardashian and Kris Humphries wouldn't have gotten a divorce after just 72 days of marriage.
We have a feeling that Evie and John have been together so long because they are both hilarious and cool as hell.
Here is the full video of Evie and John covering Sir Mix-a-Lot's 1992 hit.