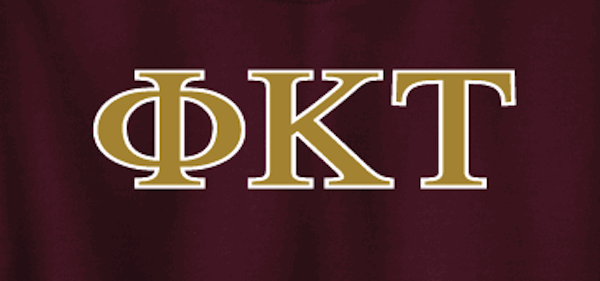 A Phi Kappa Tau brother named Matthew Peterson sent out an email to the members of his Georgia Tech chapter recently that has many on the Internet in an uproar. It was an attempt, I think, to educate the young pledges and some brothers in need of a review in the art and science of seduction, but in that it fails miserably.
Let's go through this missive paragraph by paragraph to see where Mr. Peterson goes wrong in his techniques for wooing a young lady. The email opens:

First, Mr. Peterson encourages his fellow men to be aware of any unaccompanied ladies in need of a social companion. He is distressed at the thought of a woman standing alone, vulnerable to all manner of thieves and layabouts, and he encourages his fellow "chods" (a misspelling of chaps?) to serves as escorts. So far, so good.

Then, Mr. Peterson explains the basics of making conversation in mixed company. He recommends the chaps stick to comfortable topics (no religion or politics here!) and politely inquire of the ladies where all they have been tonight. While "proceed to have a conversation" isn't very specific, it is difficult to encapsulate the fine art of conversation, and his suggestion to "go dance" is sure to lessen any discomfort. Lest any ladies become thirsty, Mr. Peterson recommends offering to bring them a drink, which is very polite.
The groundwork has been laid and it is now time to fill your dance card with her name, inquire discreetly as to her social position, and make a match!

Here Mr. Peterson outlines what to do if a lady declines to dance. You may ask a second time, but if rebuffed, turn to another girl instead. There is no way to foster jealousy so quickly as to shower attention upon her friend!
No. No, this is all wrong. This isn't the correct order of things at all. Leave plenty of space between you and your dancing partner as a show of respect. There are people around! Kissing is for darkened corners and the bedrooms of married people. Your gloves should never stray from her waist and her hand. If by "grind" you mean waltz across the floor in triple time, then fine.

That is not a very promising start to a partnership, Mr. Peterson. Instead, why not pull her aside to a quiet table, where you can talk about your individual plans for the future and see if they would combine well? The best foundation for a marriage is honesty, trust, and caring. But yes, no raping.

This guide seems doomed to result in broken hearts and hurt feelings. Perhaps Mr. Peterson meant to educate his brothers about the 7 M's of Falling in Love: 1. Meeting. 2. Mailings (write letters, find out more about each other). 3. Meandering (there is nothing so romantic as a chaperoned walk in the garden!). 4. Meditation (consider how you really feel). 5. Mutual affection (develop it over time). 6. Marriage. 7. Matrimonial bliss.
Best of luck to Mr. Peterson in finding a wife who will let him stick his hand up her shirt. He's going to need it.
(by Shira Rachel Danan)