Misery loves company, but it's hard to find a fellow miserable soul when dating sites are about pretending that existential despair didn't bring you there in the first place.
Enter Shaun Price, creator of DateMiserablePeople.com, a destination and app for singles who are tired of pretending that they like traveling, exercising, and themselves.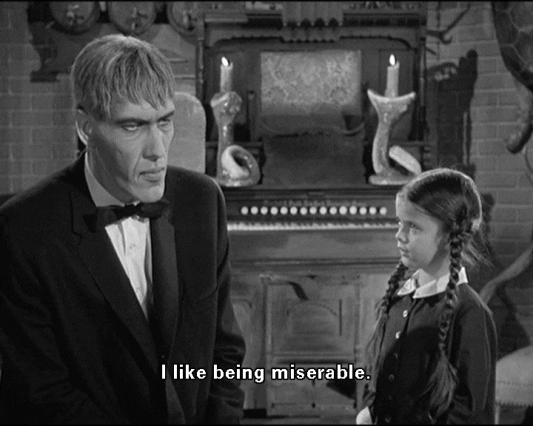 "The majority of the sites, everybody's perfect," Price told Arizona Family, "Everybody's got a beautiful picture, everybody loves to travel, everybody loves to hang out with their friends but that's not really who they are. Really who they are in their daily lives is really a different picture."
After going through the trials and tribulations of all the dating sites and apps and services, Price felt "intimidation of feeling inadequate for the majority of people that have profiles posted on these sites."
http://giphy.com/gifs/parks-and-recreation-rec-i-hate-people-6SmEgUGi9TbIk
Enter Date Miserable People, which describes itself as "a place for people to come together and feel comfortable sharing their lifestyles, interest and concerns honestly."
https://www.facebook.com/DMPonlinedating/photos/a.627708054073907.1073741827.623834537794592/627708044073908/?type=1&theater
The site is a totally real thing, and has begun hosting speed dating events for people to vent and connect in cities all across the United States.
In the land of the sad, it's even possible that being miserable can make you more desirable.
http://giphy.com/gifs/les-miserables-marius-cosette-L2Njk5JUe3gpG
Find your true love, kindred spirits. Find the Miserable Marius to your Miserable Cosette.