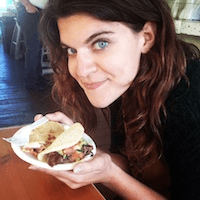 Filed by Kelsey Solywoda

|

Mar 31, 2017 @ 11:29am
After a rough week, Texas best friends Texas best friends, Cati Domitrovich (19) and Alex Nagle (17), decided to treat themselves to dinner at a fancy restaurant - and they went above and beyond to get a free dessert out of the deal. (Any best friends can convince people they're dating, right?)
The two staged a fake proposal at a fancy restaurant after acting like a couple during their entire meal.
When Domitrovich got up to use the restroom, Nagle told the server that he was going to propose and asked her to take photos. Apparently, their performance was pretty convincing.
"Everyone believed us and everyone clapped," Domitrovich told Buzzfeed News.
And the best part is, they got this fancy plate of tiny desserts free of charge.
Genius.
Naturally, people on Twitter are obsessed with them.
Although there are some out there who think the teens' scheme was a tad over-the-top.
Hey, we're all just doing what we have to do to get some crème brûlée in this crazy game we call life.