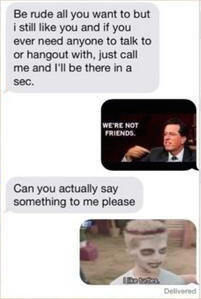 Kid's saying "I like turtles," in case you just hooked up your 28.8k modem for the 1st time.
As he himself points out in the conversation, 17-year-old Kane Zipperman is kind of a dick...but at least he didn't cheat on his girlfriend with her best friend. That's exactly what Zipperman claims his ex-girlfriend did to him, and the teenager from Canton, GA was not happy. 
So much so, that he allegedly responded to her (pretty unrepentant) entreaties not to break up with her with nothing but memes and a combination of jokes and teenage anger (for a 17-year-old who just got cheated on he keeps it pretty in control...he's still a 17-year-old dude, though). Then, he put it all on Twitter.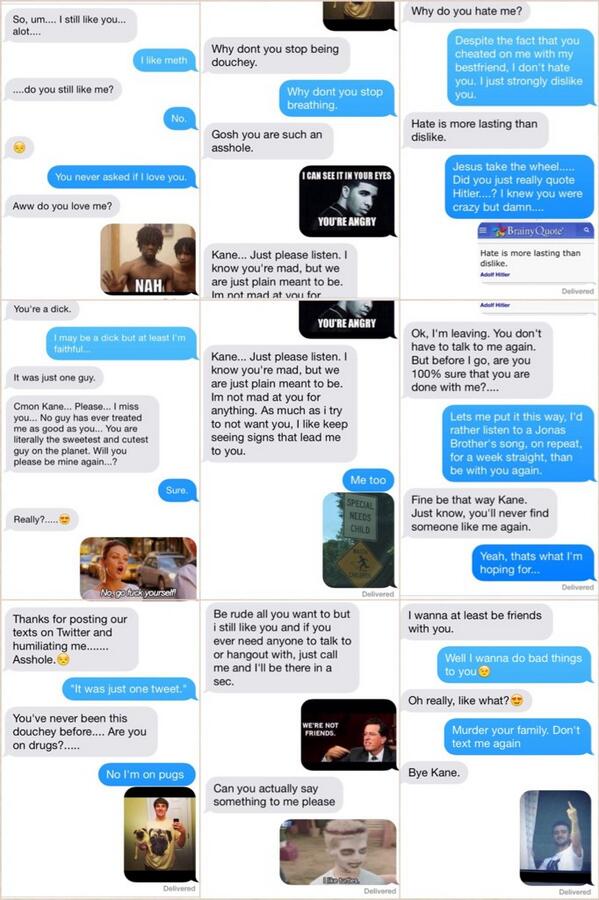 Quoting Hitler: the only way to lose an argument faster than comparing someone to Hitler.
Since he "put her on blast," as the kids say, the conversation has garnered 75,549 retweets and 91,366 favorites (as of press time), as well as press mentions as far away as Great Britain. He certainly got his revenge for her cheating on him with his best friend. Whether any other girl will risk getting memed and tweeted is another question. If this actually happened, of course. The conversation runs pretty smoothly, setting him up for each successive joke. It might have been staged, but it's still pretty entertaining. 
Believe it or not, this isn't the first time this kid has been in the news. He got some attention in the sports press for appearing behind Tiger Woods in a tiger shirt at the masters. 
Imagine how harsh the memes would have gotten if he'd been dating Tiger. (via SBNation)
(by Johnny McNulty)