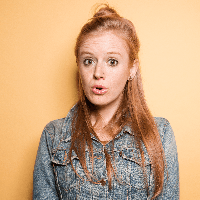 Filed by may wilkerson

|

Feb 23, 2017 @ 3:00pm
Dating is hard enough for us mere, non-plastic mortals. So just imagine trying to find your perfect match when you're a human Ken doll. Take, for example, Quentin Dehar, a 24-year-old who lives in France and has fully dedicated his life and savings to looking like Ken, the Mattel doll.
But Dehar, whose quest to look like Ken has cost him nearly $116,000 in plastic surgery, found the plastic pot for his plastic lid. In 2013, he met Anastasia Reskoss, a woman who has spent over $160,000 on plastic surgery to look like a human Barbie doll, the Daily Mail reports.
She looked like this:
A love connection was struck and they became girlfriend and boyfriend, living in a perfect Barbie world and spending all of their money on plastic surgery together. Awww.
As you can see from this photo of the couple in 2015, they sure looked like the perfect match:
But looks can be deceiving and soon there was trouble in plastic paradise. Specifically, Anastasia succumbed to the winds of change and decided to change her hair color from blonde to dark brown. She now looks like this:
A post shared by Anastasia : 💄👠💅👑👛💋 (@anastasiiadoll) on
"#brunettegirl," she wrote in the caption. Quentin was less than thrilled about the change, which ended up being the "final straw" that ended their relationship.
"I separated from Anastasia because I fell out of love with her," Dehar told the Daily Mail. "I realized we were growing apart for a while, but the final straw was when she dyed her hair from blonde to a very dark brown."
He continued: "Ken does not like brunette girls! I wanted to spend the rest of our lives together morphing into the Ken and Barbie dolls we love, but Anastasia was no longer committed to that dream."
Wow. This is one of the most superficial reasons for a breakup I've ever heard. And yet, not that surprising given that he's literally a human Ken doll.
Dehar described himself as a "single and independent Ken now" but added "it would be nice to find love again." He said he hasn't found someone although he often gets hit on by women, who he describes as "bimbos" (I'm starting to understand why he's single).
"I meet bimbos from time to time who show interest in me and I'll take photos with them, but I soon become suspicious of their intentions," he said. "'Most of these girls just want the fame and popularity that comes with being with the 'French Ken.'"
So basically, the human Ken doll is looking for a woman who is a human Barbie doll but also down-to-earth enough to like him for who he is and not his "fame"? Got it. Okay. Good luck buddy!
And if you happen to be a super-blonde, single human Barbie doll looking for your Mr. Right (but not at all interested in fame or status), I've got the man for you. MUST LOVE being blonde, staying blonde, and ALWAYS be "committed to the dream."