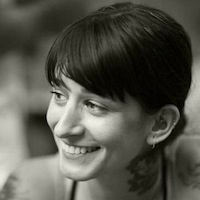 Filed by Jessie Dean Altman

|

Jun 08, 2017 @ 11:29am
Okay, this guy just won the prize for Best Boyfriend Ever for the matching gifts he gave to his girlfriend and her dog. Yes. Matching gifts. And they're so good!
Nicholas Purvis and Cassandra have been dating the last eight months, according to BuzzFeed, but this isn't their first go-round. They've known each other for at least six years, and they actually dated for about a year and a half in high school. But he's not her longest or most important relationship—that title goes to her dog, Lucky.
Speaking to BuzzFeed, Purvis said, "[Cassandra] loves two things more than me. Sleeping and her dog." So for Christmas, he combined those loves into one present—a blanket with Lucky's face on it! And then, just to be "hilarious," he also got Lucky a smaller blanket with Cassandra's face. Purvis told BuzzFeed "I just thought it was funny honestly...like who has that? It didn't have any profound meaning except to be extra."
Purvis posted a picture on Reddit, and it got posted by a Twitter account called Daily Doggo, where it soon went viral due to its awesomeness. The internet loves it, with tons of people replying on Twitter, tagging their friends and saying they wanted a gift like this, too.
Need this type of man in my life

— Daniella Miele (@daniella_miele) June 4, 2017
I would want nothing else but I can't pick my favorite picture of her

— sam (@samm_lamm) June 4, 2017
If my future boyfriend doesn't do this for me with my future dog he's going to be a very single boyfriend

— bean (@EmilyBeaner99) June 4, 2017
This is a great idea, and should be done more often. Matching T-shirts for dog and person? Mug for the human and water bowl for the dog? Step it up, gift givers.