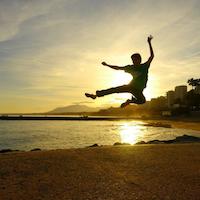 Filed by Mitchell Friedman

|

May 19, 2016 @ 6:50pm
Eschewing online dating and attempting to make a real-life connection (!) that would not raise eyebrows as the plot of a feature film, Redditor Oversightovermind, 25, took to the Internet to ask advice. There was a hot guy at work who sat one floor up from her, in a building directly across from her window. So there he was in clear view, yet completely unreachable with anything but a friendly wave.
She explained:
I work in a building right next to another one. I have a window seat, and from my desk I can see into the other tower that's right next to me. There's this guy who is incredibly attractive who sits one floor up. We wave to each other in the morning and evenings and smile when we catch each other's eyes but we've never actually talked. He put up a "Merry Christmas" which I think was directed at me but I don't know. This has been going on for over a year.