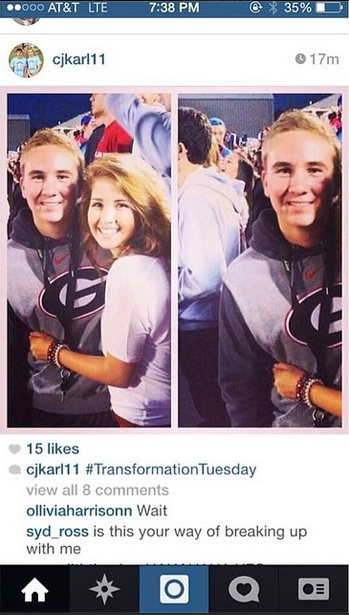 Frankly, it'd be even worse if he wasn't breaking up, just removing her from photos.
(via mogaaaaarrrr on Instagram)
Ah, young love. Who can forget their first crush, their first date, or the first time they were brutally and publicly humiliated by an unthinking and uncaring significant other who wants to play the field so badly that they forget to tell you first? Not instagram user syd_ross, that's for sure, who will never be able to look at the hashtag #TransformationTuesday the same way again after cjkarl11 proved he was the dumbest teenager on there (an impressive feat). The hashtag is usually used for people who are getting in shape or giving themselves a makeover—in other words, people making a major improvement in their lives. Ouch.
Both of their accounts have since been set to private or deleted, but this screencap was saved by Instagram user mogaaaaarrrr for posterity.
On the plus side, it looks like he's making room for that blue-haired dude in the background of the second picture, whom I'm sure was devastated about being cropped out the first time.
(by Johnny McNulty)