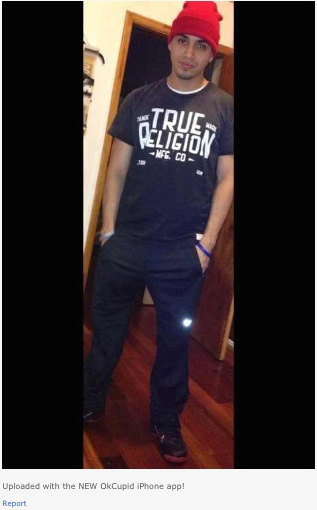 What about this photo doesn't say "I need to be avoided at all costs"? (via OKCupid)
According to today's New York Post, a 22-year-old student at St. John's University in Queens, NY says that after two weeks of friendly flirting on the dating site OKCupid, she agreed to meet the man pictured above for a date that ended in disaster. After a few drinks near Union Square in Manhattan, the man began to repeatedly pressure her to return to his apartment in Williamsburg, Brooklyn.
Between the fact that this was a first date and the fact that he was being a jerk (and probably to avoid having to go from Brooklyn to Queens in the morning), she declined his advances and left for the subway. Then he decided to go for the gold medal in the Bad Date Olympics by throwing a water bottle at her head and taking her phone. "I guess he doesn't take rejection well," said the remarkably understated 22-year-old, "he was acting like a child."