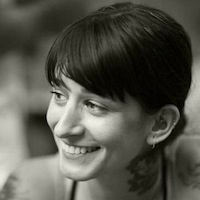 Filed by Jessie Dean Altman

|

Mar 09, 2016 @ 3:00pm
Maiya Roi and her husband, Walter Ueligi Mataniu-Faumui, live together in Sydney, Australia, in a state of wedded bliss, except for the fact that Maiya's hobby is jumping out at him and startling him senseless over and over. And she films it every time. Warning: there is some NSFW language in the video—but you're still going to want to keep the sound on.
So I've been holding onto this for a while now. Waiting till I had enough to post it up. Now my husband can be fb famous hope you like it bub Walter Ueligi Mataniu-Faumui.

Posted by Maiya Roi on Friday, October 23, 2015
Maiya posted her video compilation of Walter's Greatest Scares to Facebook, complete with his cursing and her hysterical laughter, where it's been viewed almost half a million times. Hopefully that makes it worth the roughly 600 heart attacks she's given him during the making of the video. Ain't love grand?