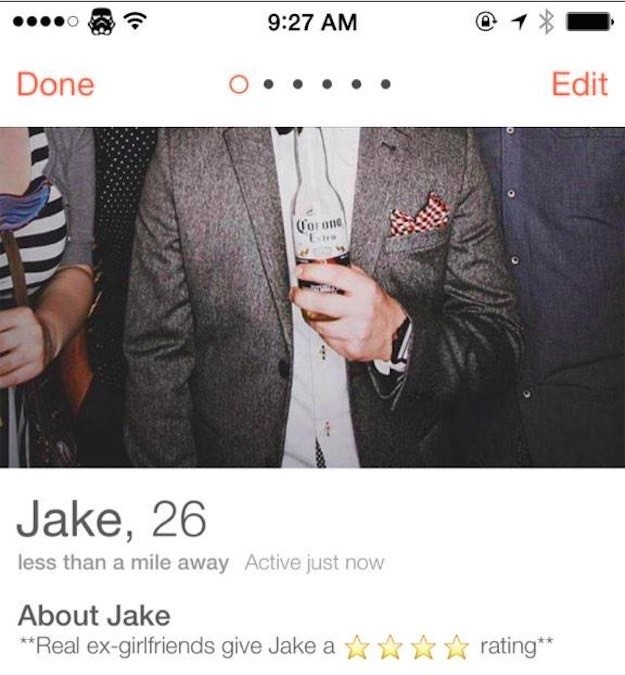 To be fair, a few years of nostalgia can add a star or two to anyone's rating.
Ex-girlfriends are, as a rule, not who you want attesting to your character, let alone your skills. One brave man wading into the online dating world, Jake Chapman, decided that authenticity would help his Tinder profile more than a list of his favorite movie quotes (or his actual face, seen here).


He reached out to former significant others, urging them to post honest feedback on his profile. Appropriately, he reached this decision at 1 in the morning (but swears alcohol was not involved).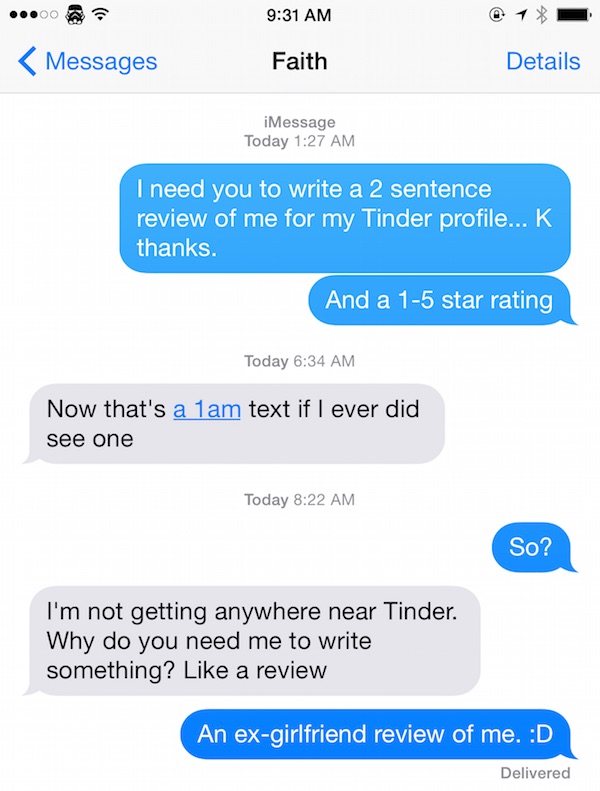 "Decor was nice, but service was rushed. Also, the bathrooms were subpar."
As it turns out, Faith wrote a rather nice review, and several other ex-girlfriends cooperated as well (although Jake says he did forge at least one of them).
I thought my @Tinder profile needed some honest ex-girlfriend reviews, so I asked. @reddit #tinder #tindertips pic.twitter.com/Hje6Mwyqed
— Jake Chapman (@imjakechapman) January 21, 2015
Since leaving a review, Faith has been texting with Jake constantly (in his words, more like arguing) since this episode started—and she's not the only one, or even the most important. That would be Taylor.

That's nice! Too bad about that 1,155 miles...and the boyfriend she had when this story started.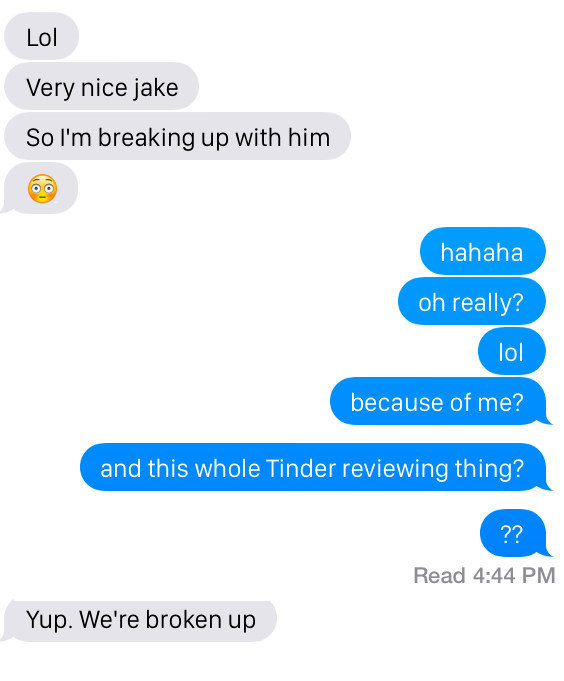 "Um, I don't know how to tell you this, but I already have a bunch of Tinder dates."

BuzzFeed talked to both Jake and Taylor, and they both confirmed that they have each called the other "the one that got away." It can't get any better, can it?


I mean, a one-way ticket would be more romantic, but also creepier.
As romantic as this is, Jake is certainly keeping his options open, not only with his Tinder profile, but with his impressively low-stress reaction to Taylor's visit. As he told BuzzFeed,
...when she texted me the plane ticket I was shocked she actually pulled the trigger and did that. She will always be a special girl to me, but to say that something is going to happen between us is having expectations. Which is one thing I won't do, just adds stress and tension to something that should be fun and enjoyable. To spend time together and just enjoy each other's company and show her around my city.
Wow. He made Taylor feel at ease while simultaneously letting everyone on the Internet know that his Tinder profile is still open for business. No wonder his newfound Internet fans predict a feature film adaptation in his future.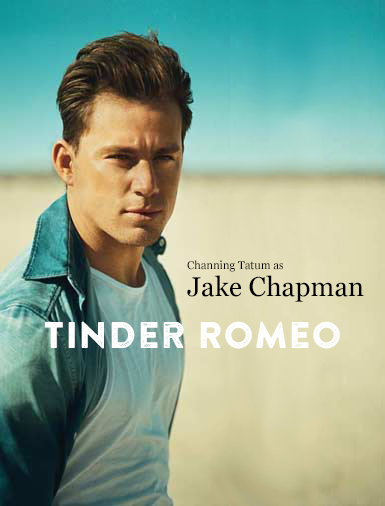 I preferred the novel, also starring Channing Tatum as Jake Chapman.

Unsurprisingly, he now has copycats.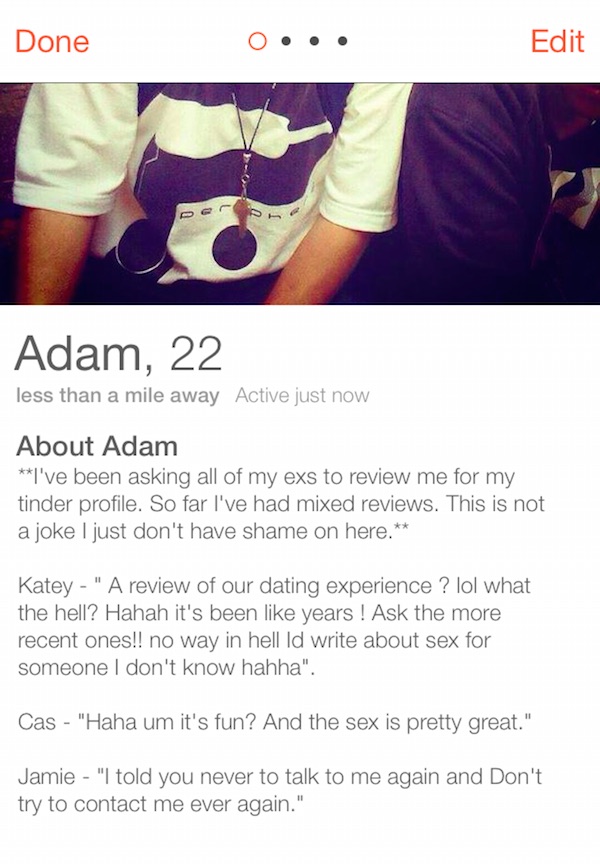 And by "copycats," I mean "amateur fiction writers." (via)

Go ahead and try it if your exes are so friendly towards you that they can't remember why they even left you in the first place. Most of us, however, go online for the opposite reason: to find the few remaining possible mates who are completely unaware of our many failings and crippling personal issues. Oh, and to write bad things about our ex-boyfriends and girlfriends (or is that just me?).