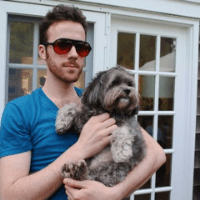 Filed by Miles Klee

|

Dec 03, 2016 @ 4:59pm
Twitter user @morgxmarie, apparently sick of the ruckus going on over her head, had finally had enough. So she wrote a strongly-worded note to the guys living a floor over her, telling them in no uncertain terms that their constant nighttime clomping was not appreciated.
A risky move? Sure—but when your sleep is at risk, anything's worth a shot. What @morgxmarie would come to regret more than the abrasive tone of the letter itself, though, was that sarcastically rhetorical question in her postscript: "If you're selling tickets to the 2 a.m. basketball games let us know."
Because it turns out they were.
So, is this the start of a beautiful friendship, or... ?
lmao i regret this because apparently this is "far from over!" cool, awesome, great

— moe (@morgxmarie) December 2, 2016
i hope it doesn't bc i can not play these boys in basketball 😭😂

— moe (@morgxmarie) December 2, 2016
Hey, you'll never win if you don't show up to the court. Ball is life.