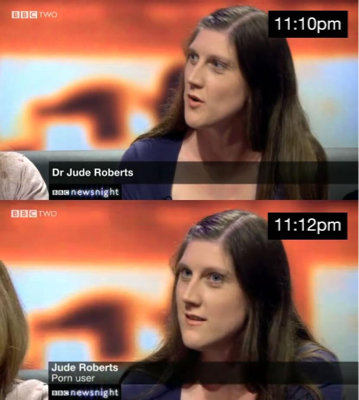 We all know that no one can both masturbate and go to a university at the same time.
Dr. Jude Roberts watches porn, everyone. I'm sorry, Ms. Jude Roberts. Or, should it be Mrs. Jude Roberts, since she's apparently married to her hand? She does have a professor's page on the University of London website, but that's from before we found out she watched porn. For the record, according to viewers, the change in her title did indeed come after she said that she watches porn sometimes.
As some of you may know, the UK is planning on blocking all adult sites unless you "opt in" to getting porn. It's basically like turning Google SafeSearch on for the entire Internet. So, they're having a big debate about whether or not adults should be allowed to watch porn without asking the government first. Naturally, they called in academics porn users to argue for and against the new policy on BBC's newsnight. Since everyone knows looking at porn is a way more defining characteristic for a person than spending years and years getting a doctorate, naturally that was the label they gave people. Dr. Jude Roberts, for example, appears on panels about the current state of society. Which she is qualified to do because she looks at porno.
So, hooray America, where porn is everywhere and we don't let academics say anything anyway because learning is a liberal conspiracy.
(by Johnny McNulty)