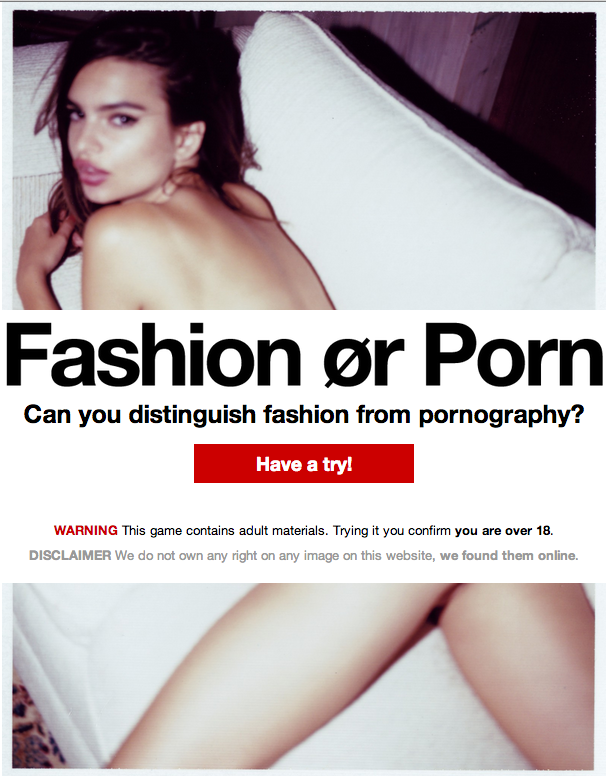 Good thing they put that disclaimer up. All I could think was "who owns the rights to this?"
(via nssMag)
Italian fashion culture magazine nssMag has released an exciting (in so many ways) new game/website called "Fashion or Porn?" in which you are shown small parts of a picture and asked to guess whether it belongs to a fashion ad or pornography. Obviously, the point here is to critique the fashion industry for becoming pornier and pornier with each passing year. Some examples, as Nerve pointed, are everything American Apparel has ever done, that Miley Cyrus photoshoot, Tom Ford sunglasses ads, whatever "Opium" is from Yves St. Laurent, and GQ's, uh, porn. Also, every random time a naked woman is selling you a product that is not designed specifically for naked women. If there was a product called "Ms. Rose's Boobie Moisturizer," I would expect breasts in the commercial. Not so much for jeans. People use jeans to not be naked.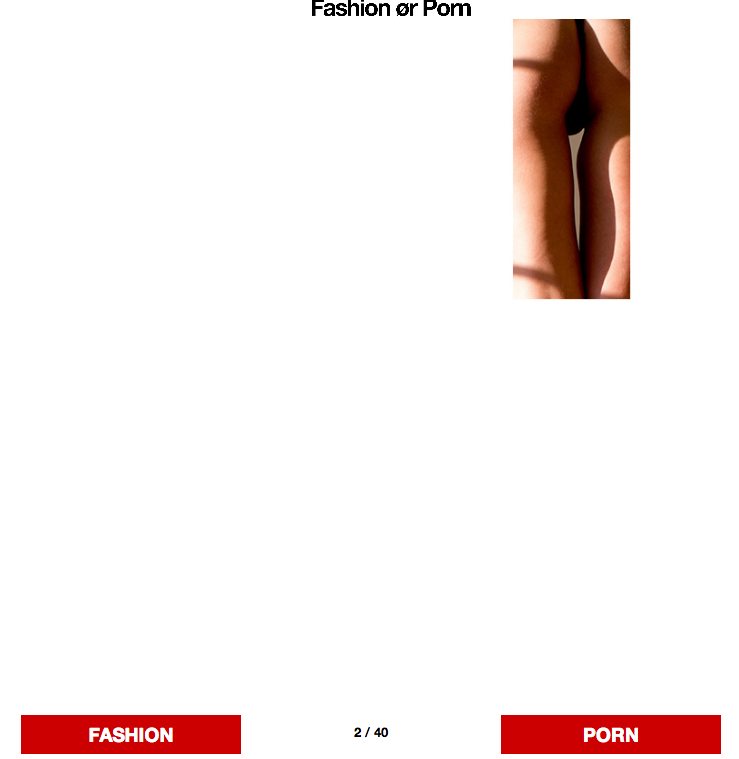 If you look at it one way, you can see a vase. The other way it's a butt and crotch.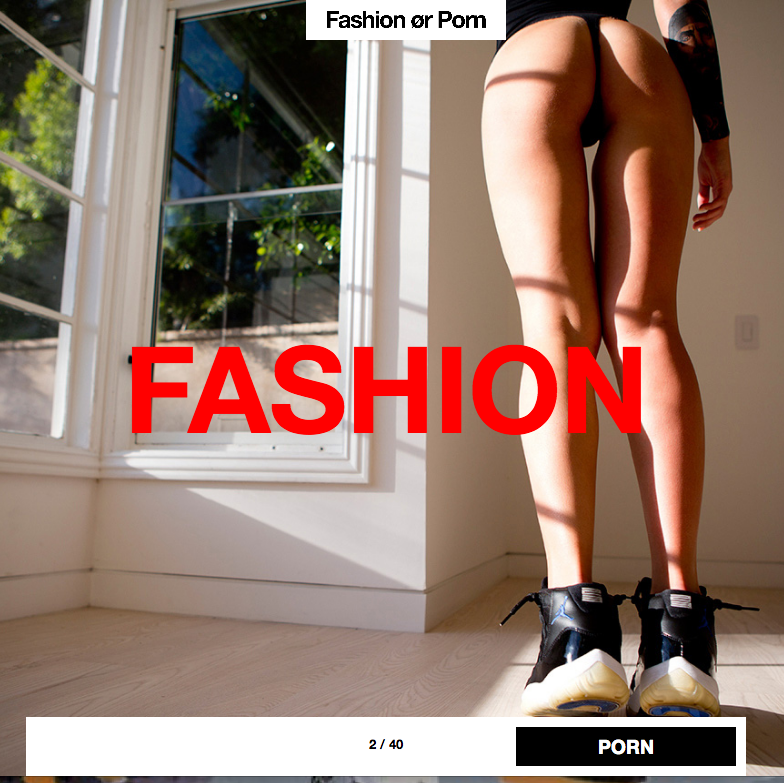 I chose poorly.
It's hard. It's really hard. It's so hard that I almost always finish instantly: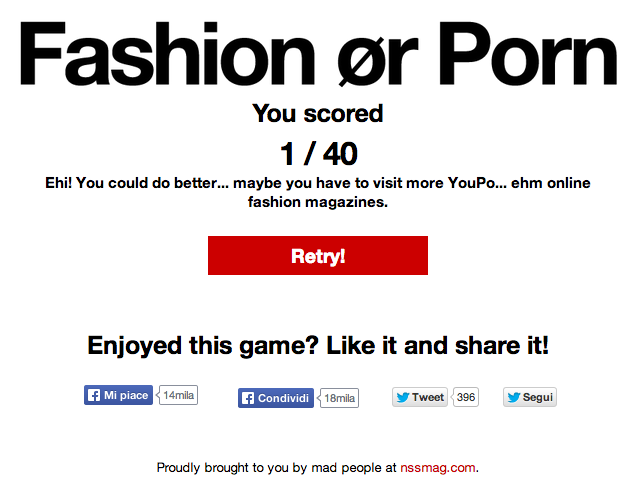 I don't think my problem is lack of familiarity with YouPo...
I did learn some things, though. One is that people do not smile in fashion magazines.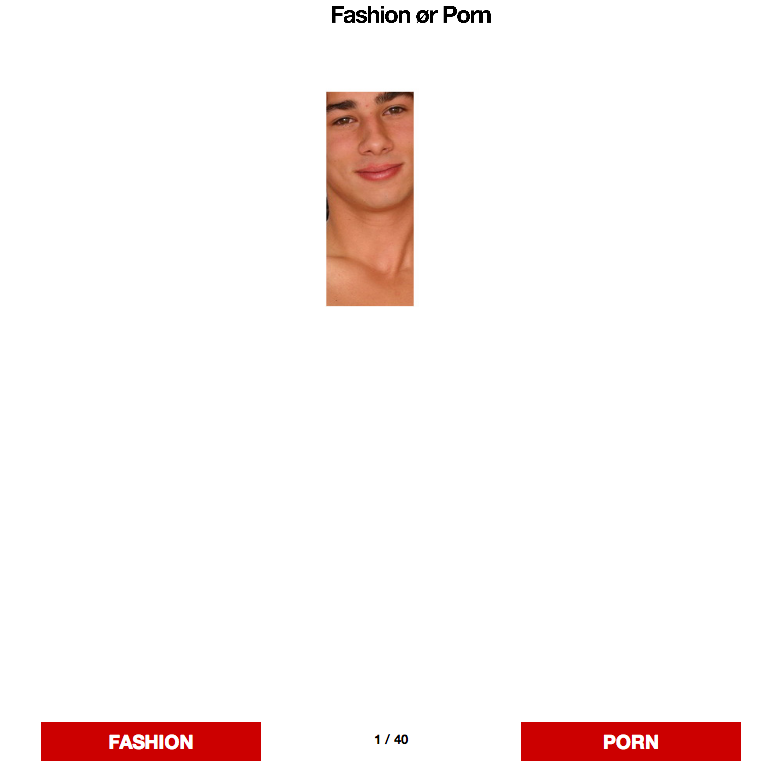 I wonder what he looks so happy about...
I don't really complain about all this extra flesh (except American Apparel ads. I feel creepy whenever I see one), and at least there's more naked dudes now (makes me feel better about the naked women)...but I would like it if expensive, well-produced fashion ads produced by the most talented photographers and models in the world didn't look quite so much like low-budget crotch shots we have all come to rely upon online. (Sort of NSFW below, just a heads up)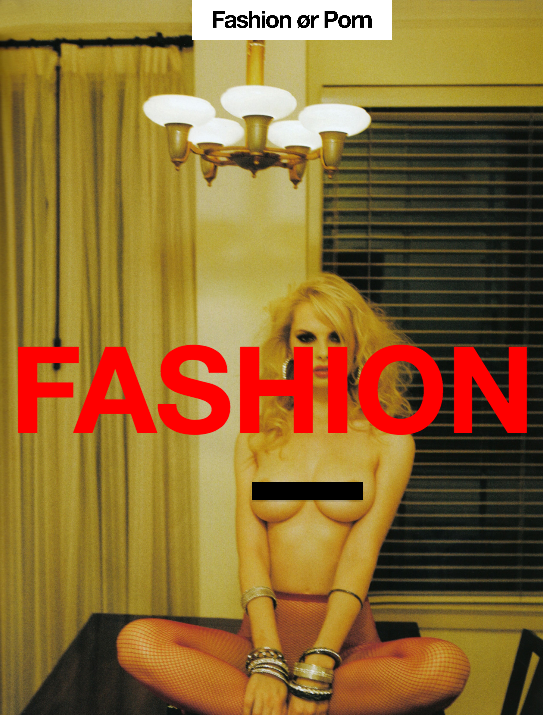 Sure. "Fashion." Whatever you say, buddy.
Does this game solve anything? No. Does it make me think about an issue I usually never consider (in no small part because I don't see all that many fashion ads, thanks to Google's algorithms figuring out I'm a slob)? Yes, it did. Is it also fun because it's a game where you guess where photos of naked people come from? You bet.
(NOTE: nssmag.com is down right now for some reason. Fashion or Porn is still working, though)
(by Johnny McNulty)