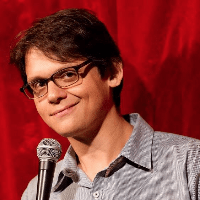 Filed by Matt Nedostup

|

Jan 28, 2016 @ 11:58am
On January 26, U.K.-based writer Joe Craig and his dog Harpo went for a nighttime walk and had a close encounter of the extremely awkward kind. The story was so perfectly mortifying and awesome, he had no choice but to tell the world all about it. And even though Craig is a very successful author, he chose to tell his story on the new hot platform for long-form fiction: Twitter.
A thing happened to me last night & I think you'll enjoy it, but I'll tell you later. Not suitable for lunch time, but remind me later.

— Joe Craig (@joecraiguk) January 27, 2016
I think it's probably late enough now. Do you want to hear the thing that happened to me?

— Joe Craig (@joecraiguk) January 28, 2016