I got this by searching "sex+non-offensive+Zzzzzzz." (file photo)
Porn has always been the driving force behind the Internet. It was the first business to make money and still accounts for 25% of Web searches and online eyeballs. Like yours, for instance. It's no secret that porn is big business, but the specifics of what people are thinking when they switch their brain into perv mode have mostly remained private. Until now!
Porn MD, a site that bills itself as "A Search Engine for ALL the World's Best Porn Sites," has added a fascinating feature; a live, scrolling list of all the words and phrases people are searching for from all over the World. And it's positively enchanting.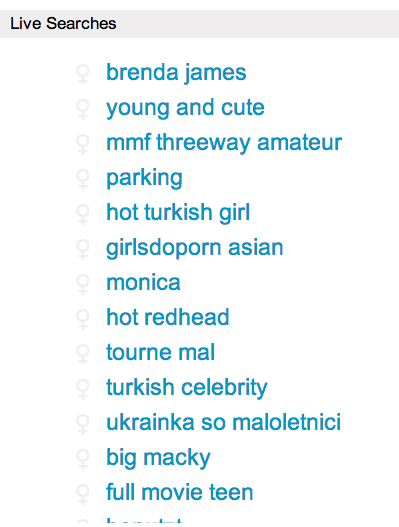 Tourne Mal's ears must be ringing!
While the site looks like a perfectly good place to search for porn, it could make an equally good place to go if you're worried that you've followed your nasty imagination down a particularly filthy or morally questionable wormhole and need to feel better about yourself as you prepare to scale the summit of Mount Freaky. Because after watching the scroll for a few minutes, you'll realize you live in a world full of strange birds getting their rocks off on sex acts you'd never even heard of before.
Not only will you feel instantly better about yourself, you'll be better equipped for the next time you want to feel worse about yourself.
It addition to being your one-stop shop for all your pornography needs, it also seems like it would be a good resource for any nü metal band looking for a perfectly offensive name. Like these:
• Camara Oculta
• Skin Diamond Kink
• POV Bride
• Two Girl Joi
• Hindi Taboo
• Fart Wank
• Black Gag
• Limp Bizkit
Okay, the last one is a goof. But after watching this scroll for a few minutes, it wouldn't surprise me at all to see it stream by. And when it did I'd probably click on it.
Check out the NSFW live scroll here.
(by Jonathan Corbett)