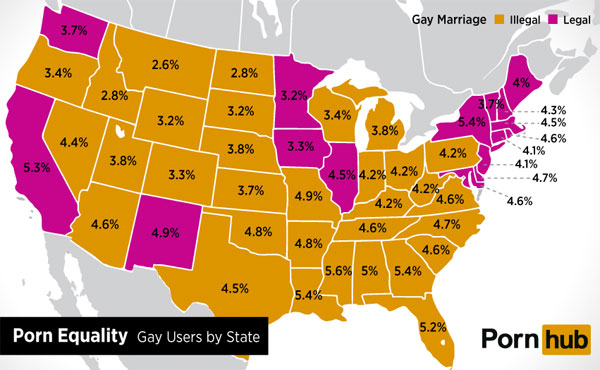 I'm starting to think "whistling Dixie" doesn't mean what I think it means.
Hard core pornography and map statistics. Which of the two do people enjoy looking at more? It's an age old question, and we won't be answering it today. But what we will be doing is looking at some numbers on a map and talking about porn, so it's the best of all worlds.
PornHub and Buzzfeed recently released some very interesting stats concerning all the gay porn that Americans are constantly shoving into their eye holes. Looking at the map above, you'll notice that in both gay-friendly New York and California, homosexual porn accounts for 5.4% and 5.3% of all the wonderful filth consumed in those states. (Hawaii couldn't make it to this photo shoot, but it's also up there with 5.4%.) That's higher than the average for states with legalized same sex marriage (4.41%), as well as for states that are still on the wrong side of history (4.13%). So far, not too shocking, right?
Now take a look at the South. The conservative, hyper-heterosexual, marriage-equality-hatin', hayseed-chewin' South. Holy cowboy fetish, those are some high numbers! According to PornHub: "Dixie loves dicks so much, that the percentage of gay viewers for every single state in the South is higher than the average of the legal gay marriage states." Check out Mississippi! 5.6%?! That is an impressively large number. 
I'm not sure what the takeaway is here. I'm really at a loss. I'm thinking it might have something to do with leather chaps and bushy mustaches, but that's just a guess.
(by Dennis DiClaudio)