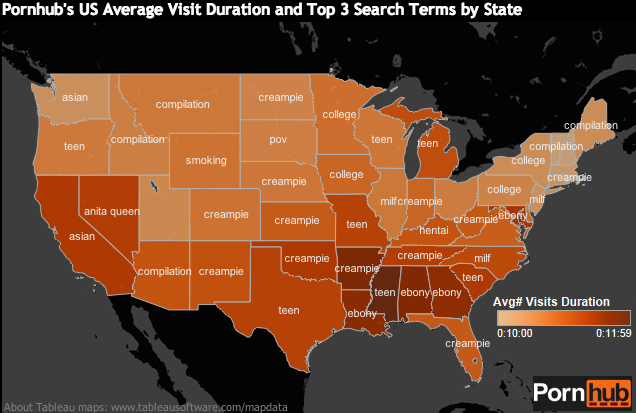 Wyoming likes smoking porn the best? Now I know where the Marlboro Man retired.
Because there are a few blanks on the map: Utah likes compilation porn the best, Ohio likes creampie (I don't ever want to type that again), Virginia likes hentai, Delaware likes milfs, Connecticut likes college porn, Massachusetts searches for ebony, and New Hampshire, like it's neighbors, likes compilations of porn. Also, we don't capitalize MILF anymore. It's just a word, now: milf. 
PornHub is a porn site. You may have heard of it, and if you haven't, I'm sure there are some good cartoons on TV you should be watching. Anyway, they just released a huge amount of data about their users' search habits, which a redditor turned into the map (actually, his is interactive) you see above of everyone's top searches, as well as a list of the top 3 searches for every state (see below). The map also includes the average amount of time on the site. Which could mean a lot of things: maybe people in the Deep South really last longer than everyone else. Maybe people in Mississippi legitimately have nothing better to do than to watch lots and lots of porn. Maybe their connection is slow and it takes a long time to load the video.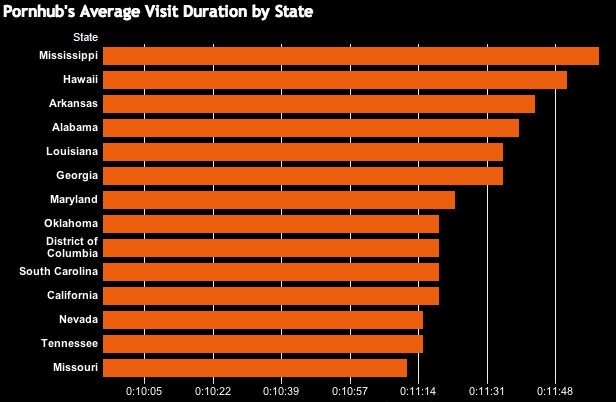 Can't decide if NY's 10:18 means we're too fast, or just as busy as we pretend to be.
What we do know is the top 3 search terms for every state in this glorious union: