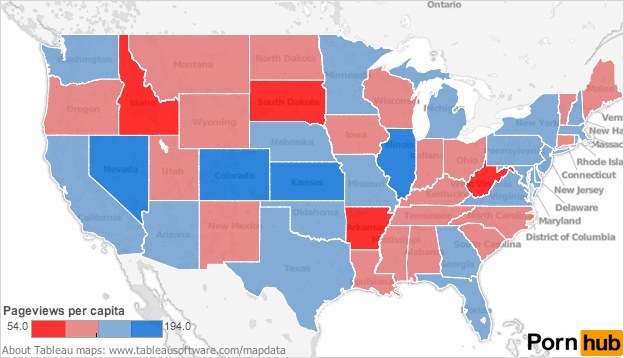 Finally, an accurate map of sin that shows just how smutty Kansas is.
It turns out that even though Southern states watch more gay porn than anyone else, GOP-dominated areas really do watch less porn overall. That's according to this latest map from PornHub Insights, who put together this information at the behest of BuzzFeed to find out whether the rhetoric around porn in red states and blue states actually corresponds to reality. This was achieved by looking at the total number of visits and pageviews from each state and dividing that by the number of residents in those states. That way we can control for the greater average population of blue states, and see how much porn the average individual in a red or blue state is watching (red or blue was determined by whether the state went for Obama or Romney in 2012).
On average, people living in "blue" states look at 13% more porn than folks residing in "red" states—the difference is so pronounced and reliable that PornHub could have predicted the outcome of the 2012 election with 70% accuracy, which only puts them a few steps behind Nate Silver. 
That said, there really was a much wider range of porn habits than I would have guessed. According to PornHub, the average Arkansan looks at 77 pages of porn a month (I think it's per month—they didn't label the time at all. I hope that's not per day, and even per week seems a little much, although my teenage self would have found it reasonable), which sounds like a lot until you realize that their "Ar"-less cousins in Kansas blow through an incredible 194 pages of smut per person. It should be noted that Kansas is the definite outlier here. I guess their wide open spaces and low population density must lead to healthy tissue sales in the absence of easy mates. After Kansas, however, the top states are all either strong Blue states or swing states that went Democrat in 2012: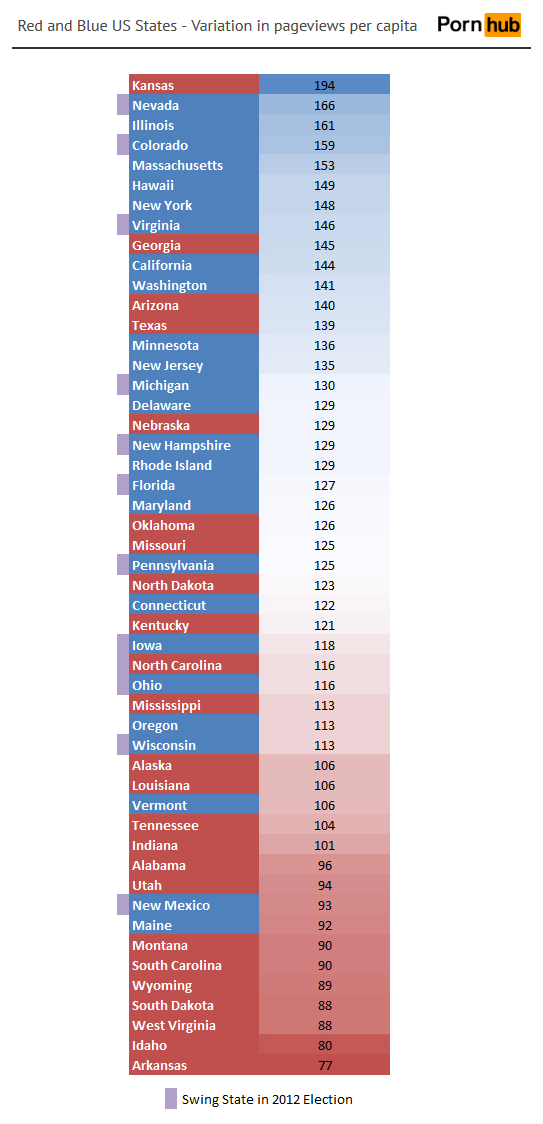 New election strategy: Dems try to make people horny, GOP tries to kill everyone's boner.
Oh, wait. That's already the current strategy.
I'll tell you what, though, Arkansas has both some of the worst Internet speeds and one of the highest rates of teen pregnancy in the nation. Maybe if residents of The Natural State (yes, the state with the lowest rate of porn viewing is called The Natural State) had faster streaming video, they'd have a bunch of much-calmer teens walking around (which is about all you can do since now 80% of teens are having sex before anyone bothers to give them sex ed—so much for the myth of liberal kindergarten teachers giving condom demonstrations). 
As for why liberals are masturbating so much...have you ever talked to liberals? Everything we (guilty as charged) do is masturbation. Complaining about how the kale in your salad at lunch was floppy and tasted like it was barely fair trade at all? That's pure self-pleasuring behavior right there.
(by Johnny McNulty)