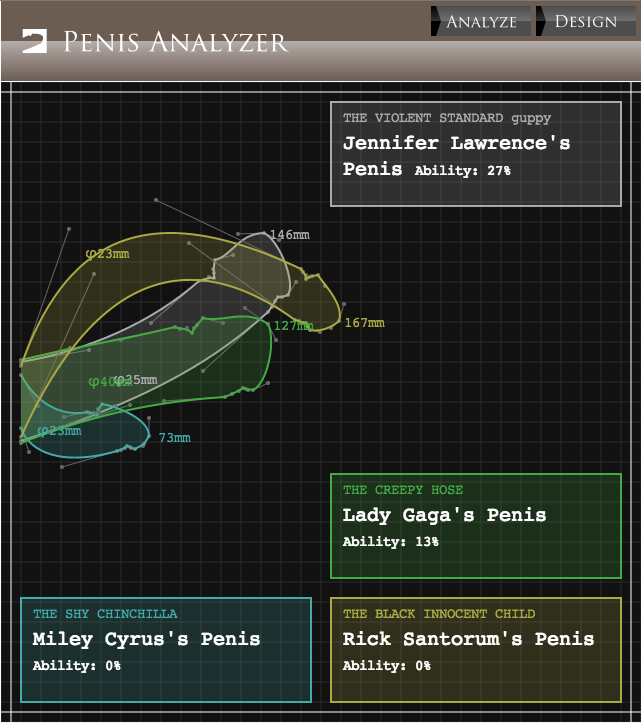 This explains so much about everything. (Convert mm to inches here, fellow Americans.)
After years of humans desperately trying to show the Internet what their junk looks like, it apparently has enough data to take a guess at yours. There is a new website, the Penis Analyzer (which also hosts the Vagina, Tits, and Anus Analyzers) from a Japanese developer named Rarapima that can use your name to generate an estimate of what your penis, boobs, vagina or anus looks like, and lets you compare it with up to three friends (or enemies), like we did above with best friends Lady Gaga, Miley Cyrus, Jennifer Lawrence and Rick Santorum.

When you do one at a time, however, it gives you more detailed information: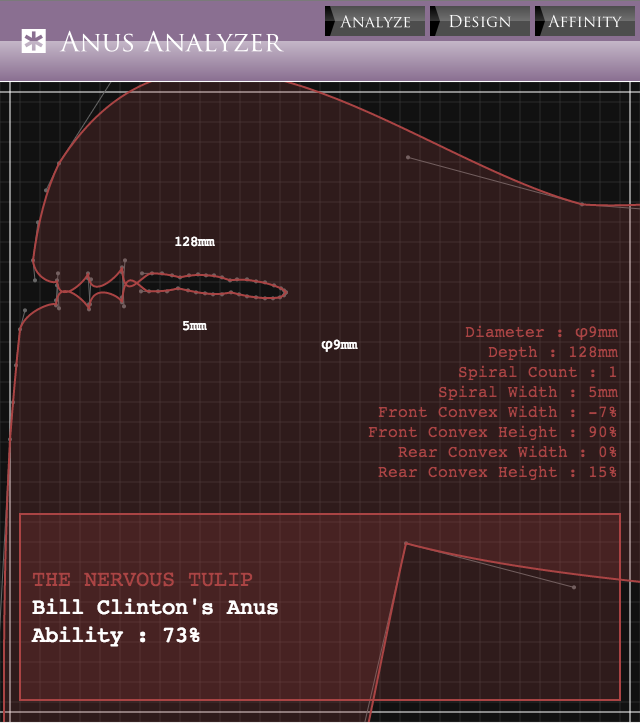 I wasn't aware assholes had spirals. You learn something every day.

...ouch.
Before you start prepping your apocalypse kits for when SkyNet nukes our genitals, however, let's make this clear: this website does not actually know what your stuff looks like. It's not accessing your naked pictures online or using your phone to create a sonic image of your genitals, like in The Dark Knight. It's accessing "average specs."
I have no idea where they are getting these "specs." I'm fairly certain there aren't extensive databases on the volume and spiral widths of the world's rectums. I also don't think Jennifer Lawrence has a 5.7-inch weiner. Well, I don't know that for sure, but I doubt it. If she did, I bet it would be very charming, though. By the same token, I'm pretty confident that Barack Obama, Ryan Gosling and Hulk Hogan don't have bigger tits than Dolly Parton: