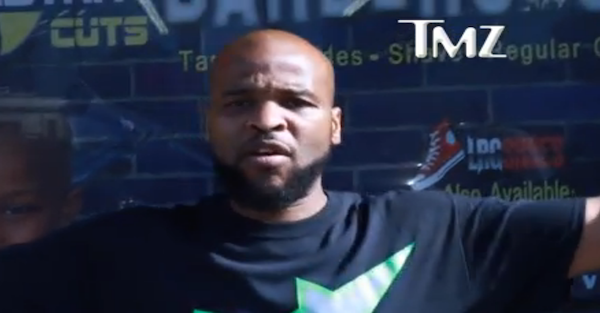 Andre "Stitched On" Johnson.
As if his junk hasn't already been through enough, the rapper famous for cutting off his penis and jumping off a balcony while high on PCP may be making a porno. Andre Johnson, who raps under the name Christ Bearer with the group Northstar, claims that his penis has risen from the dead. And even though most folks would be more than happy to take him at his word, Johnson seems determined to prove it by documenting a sex act with an equally desperate skank from the Valley in need of a couple grand.
TMZ caught up with Johnson outside of his barber shop in Long Beach, which immediately makes the fact that there are people willing to sit next to this guy while he holds scissors the craziest part of the entire story. What do the words "just a trim" mean to a guy who cut off his own cock and balls? Regardless, when asked if his junk still brought the funk, the rapper often referred to as being "affiliated with the Wu-Tang Clan" (even if they've been less enthusiastic about the partnership) put it this way: "Does it work? Can Chris Brown dance? Can Kanye West rant? Can Jay Z fight off a trick?"
That would be yes, yes, and yes (with a little help). Johnson then made a plea to Vivid Video to make him the next John Wayne Bobbit and put his scarred dick in show business.
TMZ claims they spoke with Vivid Video's Steve Hirsch, who says he's interested. So... including Johnson, that makes a total of two people. Who else wants to see the most stitched penis in history in action? Can there possibly be a market for scarred penis porn? Okay, yeah, that's a stupid question. Of course there is. And Andre Johnson is about to become the biggest name in the stitched-dick, PCP-smoking, suicidal celebrity porn game.
(by Jonathan Corbett)