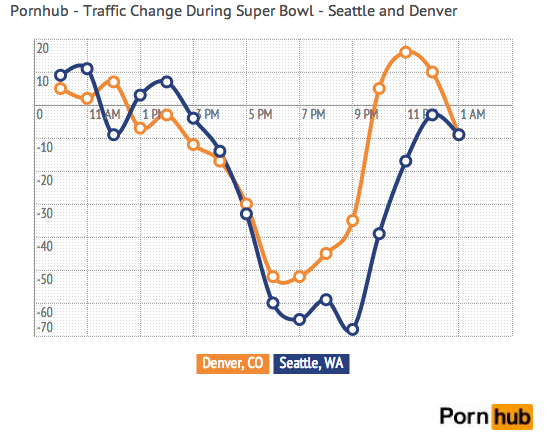 Seattle was so happy they only masturbated slightly less than usual in celebration.
Somehow, PornHub puts out the most interesting data analysis you don't have to be a member of the shadow government to see these days. Here's a chart of the porn site's visits by region on the night of Super Bowl Sunday. As you can see, once the scale of the Bronco's defeat became clear, fans apparently decided to turn the beating the team was getting on themselves. Seattle, however, was in a great mood—so much so that they stopped by for a private victory celebration (before returning to whatever house party they were at, I guess?). This graph was posted by a member of their team, Katie_PornHub to reddit yesterday, and unlike their usual content, people have been keen to share this with others. (Although normal people do sometimes accidentally share porn on social media.)
While the rise of PornHub as a purveyor of the Internet's hottest infographics may be surprising, it's not new: they famously mapped out who was masturbating the most during the Polar Vortex, what each state searches for in porn, and how many people masturbate on major holidays around the world. I guess those guys and gals have a lot of time on their hands.
(by Johnny McNulty)