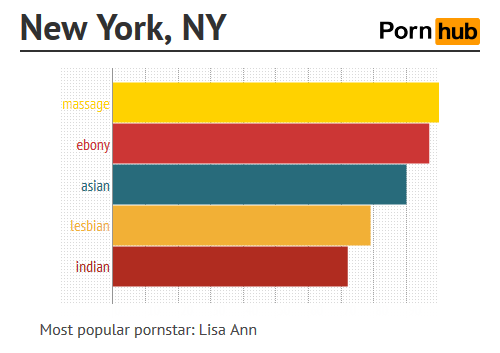 At any moment in New York, people are watching porn in hundreds of languages. (via Digg)
All masturbation is local. That's the big takeaway from this latest release of US porn viewing data, published on Digg, from PornHub Insights, which has quickly become the most intellectually significant source on American self-pleasuring since Alfred Kinsey after their wildly popular reports on what porn every state is watching, which holidays everyone masturbates the most (and least) on, which states watch the most gay porn (it's surprising), and what everyone did during the Polar Vortex. It's become a not-ridiculous statement to say that you read PornHub for the statistics.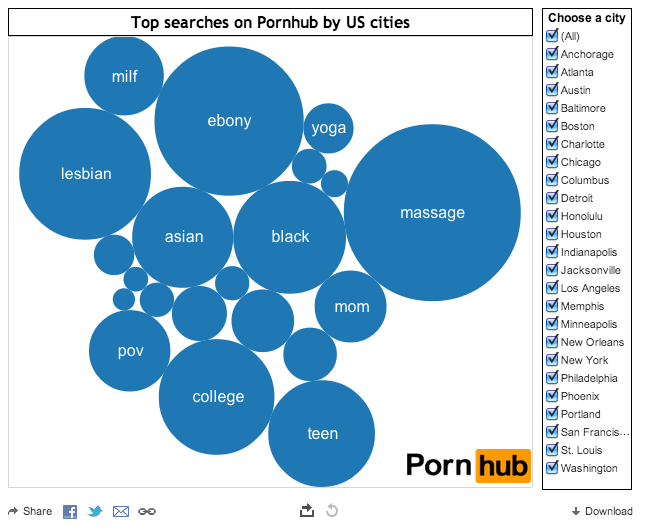 The way all those orbs of porn words are touching is bothering me. (via)
Veronica de Souza at Digg wrote PornHub asking if they had data on individual cities, and boy did they come through. Looking at 24 cities, they were able to discover some fantastic results. Here are some things I learned from this most recent revelation from the PornHub statisticians: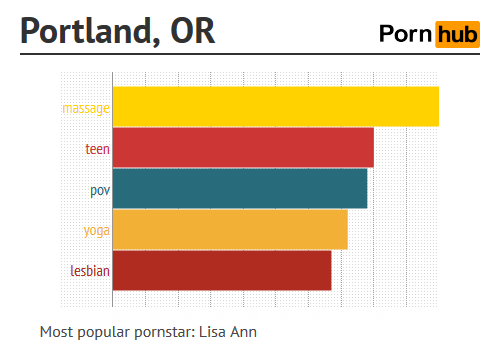 They would be even weirder if so many Portlanders didn't insist on locally-made porn. (via)
1. America is stressed out. The most commonly recurring term was 'massage,' which when combined with the popularity of 'POV,' implies a nation that just wants to lie here tonight. Maybe we could all take a page out of Portland's book, since they seem to enjoy yoga porn so much (it does sound pretty relaxing).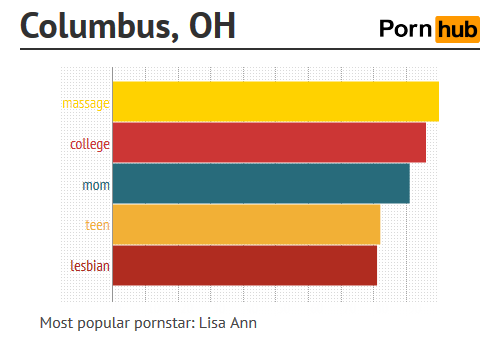 Columbus, OH. Even with the doors locked and the lights out, it's a pretty boring place. (via)
2. America is getting older. The most popular porn star in 18 cities was MILF (technical term) Lisa Ann. I'm sure she has legions of young fans, but despite the fact that one might think from pop culture that we've been in in a 20-year oedipal revival from Stiffler's mom into our current age of the cougar, this has to at least be in part because by searching for "MILF," many are actually searching for "Mom I'd Like To Fantasize About Actually Being Able To Talk To At A Party And Then F***."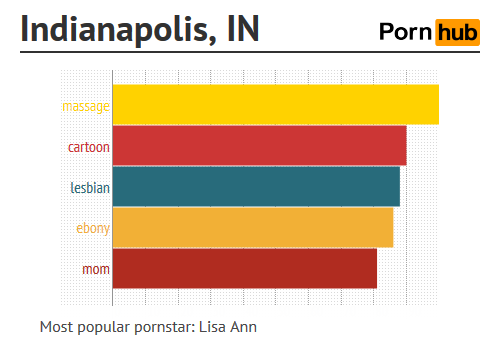 People in Indianapolis don't even want to jerk off to the real world anymore. (via Digg)
3. America's cities have a lot of different ethnic makeups and personalities. This one is kind of obvious, but it's a nice reminder that there is no one definition of "what America jerks off to." American masturbation is a wonderful tapestry worthy of its own 20-hour Ken Burns documentary. In fact, I'm going to go ahead and recommend that whenever you visit a new city, you should check its PornHub stats to get a better feel for the place, and act like a local when travelling. Don't look like a tourist the next time you buy crab cakes in Baltimore or attending the Indy 500 in Indianapolis—make sure you give off a local vibe by watching some ebony cartoon porn before leaving the hotel.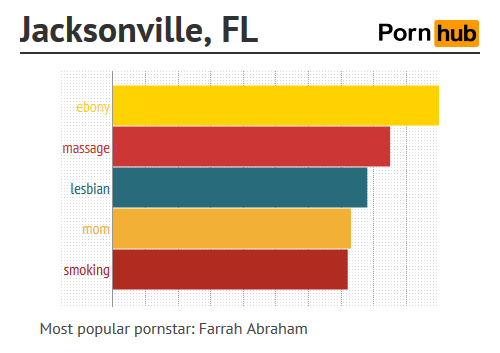 Let's hope she doesn't see this and take up smoking. (via)
4. Phoenix, AZ and Jacksonville, FL are keeping Farrah Abraham and her kid fed. Thanks guys, someone's gotta do it.
Head over to Digg for more cities insights as well as a cool chart you can click on to compare searches between and across different cities.
(by Johnny McNulty)