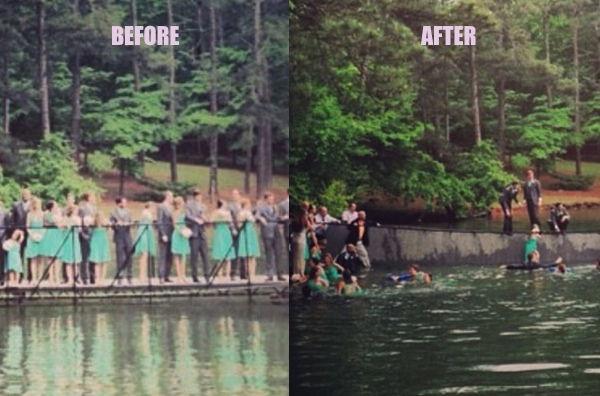 It's because the dresses were aqua. The water below was calling them home.
It was a beautiful Saturday afternoon in Georgia. Perfect weather for a dip in the lake, or a wedding, or in the case of these 29 bridesmaids and groomsmen, both.
After the ceremony uniting Patricia and Matthew Fearon in holy matrimony, the wedding party went out on the dock of Lake Lanier to get some pretty pics. Unfortunately, enough wedding parties must have tromped their way out onto that dock over the years to weaken the supports. This one just happened to be the straw that broke the camel's back, a straw we estimate to have weighed in at around 4,430 pounds (figure 14 women at an average of 130 pounds, and 14 men averaging 180, plus the one little girl on the left who looks like a 40-pounder).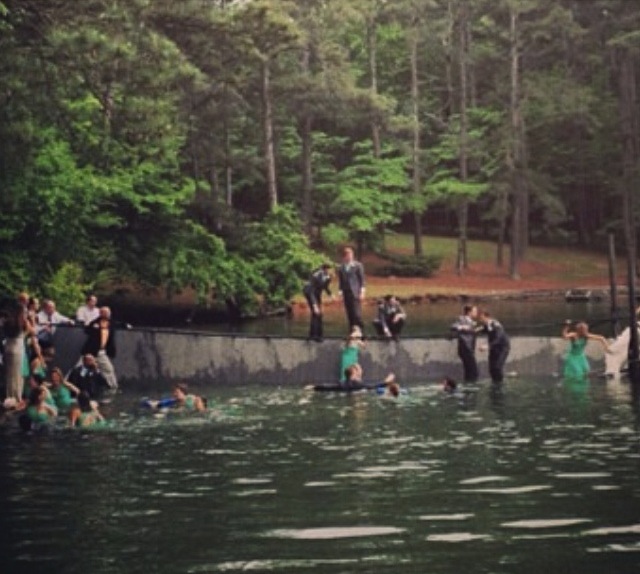 Way to help out, guys in the middle.
One bridesmaid suffered some broken bones, but for the most part everyone just climbed back up to the reception and did their best to make the wet look work for them. The Newlyweds told Good Morning America that theirs "was not a ruined wedding."
The wedding videographer, Remedy Films, even got the groomsman with the best haircut to provide some narration for what they knew would be the most viral wedding video of their career: