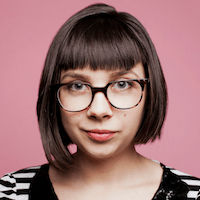 Filed by April Lavalle

|

Aug 09, 2016 @ 2:25pm
Jen Glantz is fine with always being a bridesmaid and never being a bride, because she is totally making bank from it. After being years of being a bridesmaid for friends, Glantz decided to use all she learned and opened her business, "Bridesmaid for Hire." Yes, you can hire a bridesmaid to do the things you can't trust your friends to do.
According to the website, she can be your "personal assistant-on-call therapist- social director-the ultimate peacekeeper" and will take on the less-glamourous aspects of Bridesmaid-ing (like holding up your dress while you pee) so you and your guests could enjoy your big day. It's kind of genius.