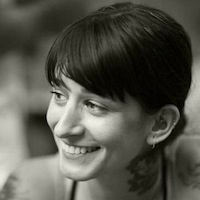 Filed by Jessie Dean Altman

|

Jul 15, 2016 @ 8:24am
According to the New York Post, 62-year-old Jane Beckman married 31-year-old Andrew No Last Name, making them basically a real-life Harold and Maude (The Post calls her a "geek"* bride, although the story makes no mention of her biting the heads off live animals or really any sideshow work at all). They were actually wed in 2010, so this relationship is not a flash in the pan. Why are they talking to the Post now? No idea. Possibly for age-difference positivity.
The couple met in some self-improvement courses, which just goes to show you: that stuff works. Beckman told​ the Post that she and Andrew started out as friends, but that friendship eventually developed into something more. Beckman says she found Andrew attractive, but didn't seriously consider him in a romantic sense until her ex suggested it.