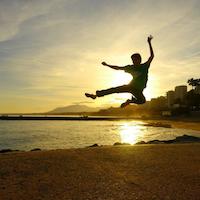 Filed by Mitchell Friedman

|

Sep 26, 2016 @ 2:45pm
On Saturday, a couple was about to take the same boring, beautiful wedding photos everyone shoots in the stunning autumn paradise of New York City's Central Park, but luckily Tom Hanks was there to save them from the mundane.
Photographer Meg Miller told the Huffington Post about the encounter. While most of the plebeians in the park were staying out of the frame, Hanks ambled over, "took off his hat, just leaned right into the group and said 'Hi, I'm Tom Hanks.'
Unlike most people who interrupt a group of strangers in New York City to declare themselves Tom Hanks, this was really Tom Hanks. And naturally, stumbling upon mere humans, he thought, "They must really want to share this special moment with me."
He was, of course, correct. For he is a famous man.
He proceeded to take a few selfies before he "sort of took off running," having used his celebrity for good once again.