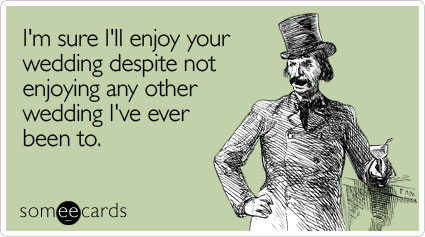 For the friend to whom you owe enough favors to reluctantly celebrate their happiness.
With the invites already out and the RSVPs already past due, you've probably got some tough decisions to make this summer about which friends actually deserve your attendance, which friends can afford a good enough bar to drag you out, and finally, which friends you can trust with your scheme to fake your own death to get out of Mary and Bill's outdoor wedding in Harrisburg. Or you could just rely on these cards to get you out of, and into, whatever nuptial troubles you want. Send them to the happy couple, other disgruntled guests, or create your own gem to offend everyone involved with the institution of marriage.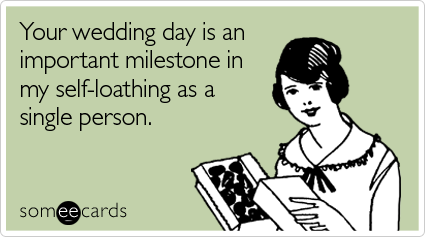 For the friend who worries about you getting depressed in your studio apartment.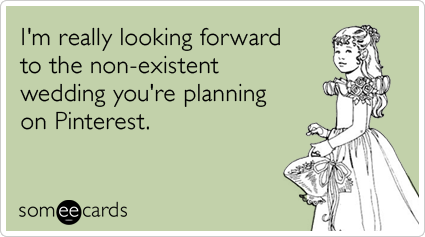 An excellent card to send if you're already married and enjoy lording it over friends.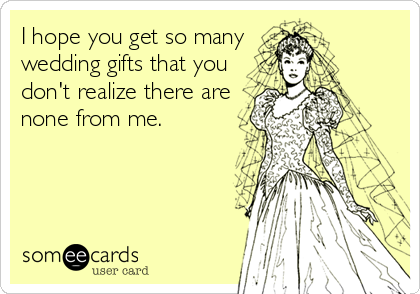 For the wedding guest who likes to play dangerous games.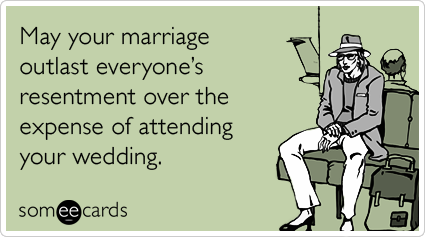 For the bride or groom who assumes everyone else is just as wealthy as they are.
 

For anyone working as a bartender, comedian, cruise director, or (strip and/or regular) cop.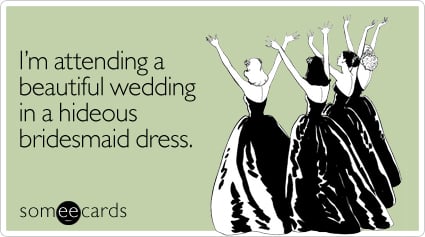 For the bride's friend who will inevitably inflict the same punishment when it's her turn.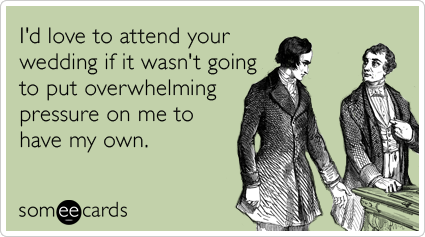 For the friend who understands that your girlfriend is crazy.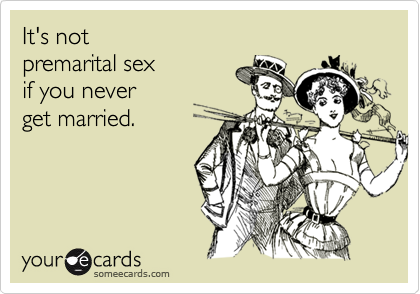 For the crush you know is attending, or for your last-ditch attempt to break up the couple.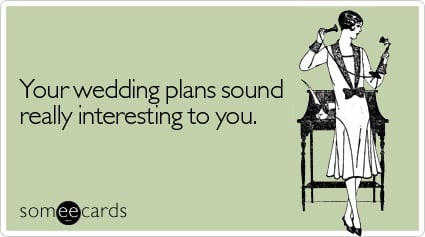 For the engaged friend who doesn't realize this is why planners are paid to listen to this stuff.
 

This is a great reason to do your invites in a few minutes on Someecards.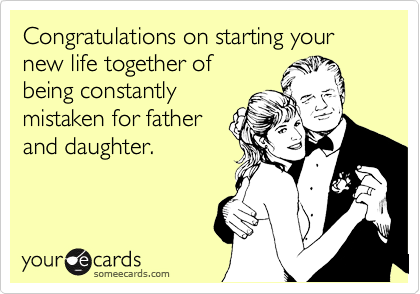 For the couple who both know what they're getting out of this deal.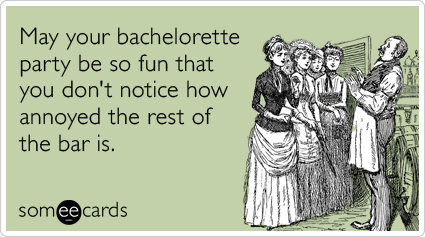 Good bachelorette parties take care of this problem with constant screaming.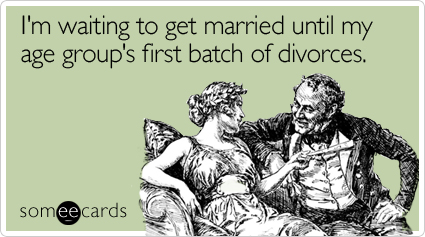 It makes the jealousy so much sweeter.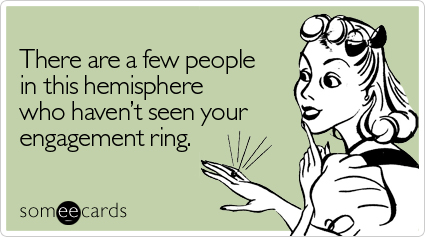 Some brides-to-be have never heard the song about all you need being love.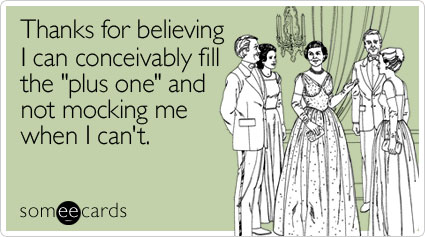 For the couple who knows you'll eat the extra placesetting anyway.
 

It's always true, so it's only their insecurities that are offended.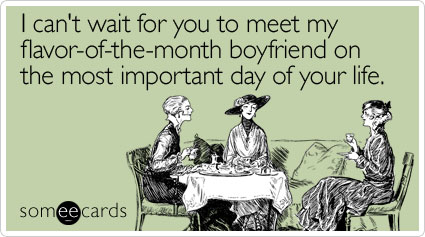 It's always nice to give friends something to feel superior about.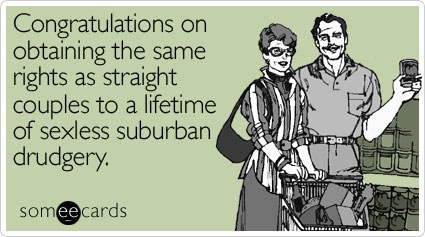 For the gay couple who are ready to turn down the flames.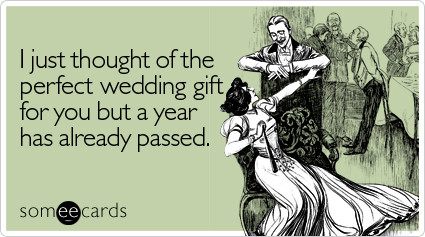 For the couple you really hope won't divorce and remarry quickly enough to call your bluff.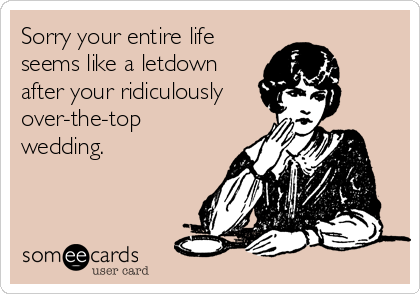 Always get married at City Hall. Marble staircases, real government stamps. Perfect.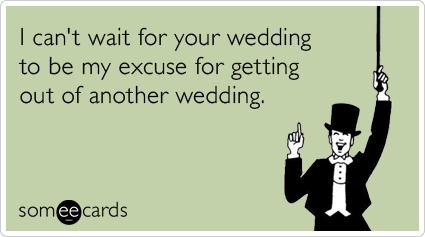 This is useful for weddings you plan on "getting your flight cancelled" for anyway.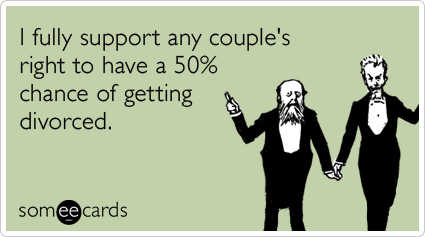 For your friends who are here, queer, and not quite sick of each other yet.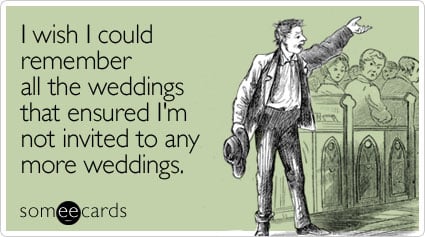 For the drunk who can never forever hold his/her peace.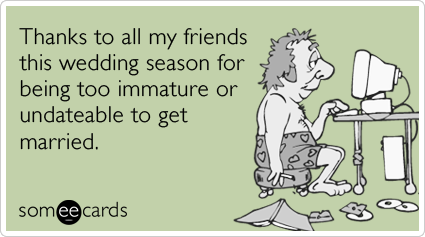 People who have their act together make it a lot tougher on the rest of us.