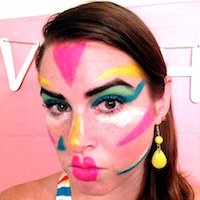 Filed by Ashley Bez

|

Aug 30, 2015 @ 12:05pm
They arrived to the ceremony on unicorn jet skis.
Newlyweds Michael Buchanan and Jason Gilbert perfectly combined their badassery and whimsy into an unparalleled wedding entrance. Their ceremony was held along the shore of Lake Allegan in Michigan, and they decided to arrive via jet skis modified to look like unicorns. It was such an impressive spectacle it was featured on Logo.
Everyone who is married is now probably trying to figure out how to go back in time to re-make their wedding entrance, since apparently being mystical as f*ck is an option now. I want to get married as soon as possible in order just to have an excuse to ride a unicorn jet ski. Here's the video of the righteous water arrival, accompanied by the cheering delight of their wedding guests: