Brace yourselves: Wedding season is coming.
With plenty of horror stories out there of bridezillas (and groomzillas!), we wanted to prepare ourselves for drunken receptions with crazy tales of the secondary characters: the wedding party.
We reached out to our readers on Facebook of the absolute WORST bridesmaids and groomsmen to make you feel like the ultimate, supportive friend.
(Some posts have been edited for spelling and/or grammar.)
1. Kate got something old, something new, something borrowed, and something orange.
My sister, who is 6 years older than me, called me crying and begging to be my maid of honor. Ok fine. During the year long engagement she tried to convince me that my fiancé was cheating on me. The day of my wedding she spilled her orange drink down the front of my dress, before we took pictures.
2. Joslin failed to book her wedding around the groomsman's schedule.
Had a groomsman call and complain about the date of our wedding and asked us to move it so it wouldn't interfere with his other obligation. Never mind that we had chosen that day because it was the only day family members could get there. Sorry, bro.
3. Linda was just the understudy.
I had to be fill-in maid of honor for a cousin because the day of her bridal shower 2 weeks before the wedding her maid of honor called to say she moved to Florida the day before.
4. Good riddance, Samantha's Ex-Maid of Honor.
I got married this past New Year's Eve... my maid of honor had a new boyfriend who refused to come to the wedding so she said she would be leaving right after the ceremony to go party with him instead of with me at my own reception... I got upset and said that wasn't very fair to me considering I was only getting married once, etc etc... she then dropped out of wedding 1 week beforehand and hasn't spoke a word to me since!
5. Bonnie got buns, hun.
Got really drunk .... came out of the bathroom with the back of my bridesmaids dress stuck in the back of my panties.... good thing I had a nice ass back then.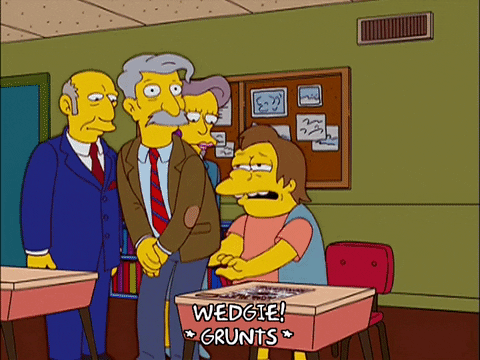 6. Hopefully Lori managed to take some selfies.
My maid of honor told me my wedding gift was her help prepping for the wedding. Except, I sat by myself and made all the favors & she didn't so much as lift a finger to do anything. HA! throw me a bridal shower or bachelorette party?!?

Used my photographer as her personal glamour shots session. I'm hardly in any of them. The ones I AM in, the migraine I had made me appear STERN.
7. Sarah might have a new stepmom.
My mother told me my father had sex at their reception--with the maid of honor.
8. Lisa's story takes the (wedding) cake.
My maid of honor and one of my husband's groomsmen were dating for a year. The groomsman decided on the party bus, when he caught his girlfriend simply dancing with another groomsmen, that he was going to break up with her when we were doing pictures on the beach. I STILL have the photos of her crying in my pictures with red eyes!! Needless to say we aren't friends with EITHER of them anymore LOL