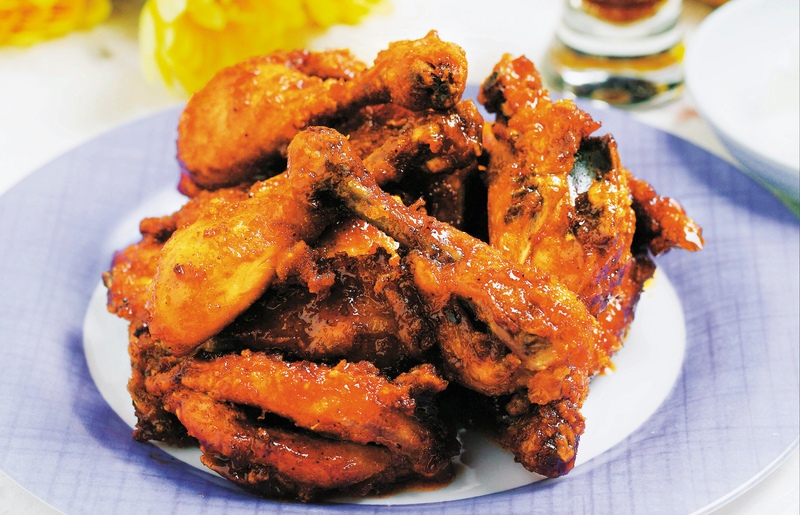 We'd have felled an entire bridal party for just a wing. (File photo)
It's a testament to the firey passion of your love if the people around you can't watch you take your vows without erupting into unhinged ultraviolence. Brit newlyweds Ben and Karyssa Smethhurst clearly have that kind of love and then some, based on this Daily Mail report of the insane brawl that erupted following their nuptials. After a quick read of the story, here's a play-by-play:
1. The groom's brother and Best Man, Danny Smethurst, decides to play his "I'm the best man so I get all the chicken and eff the rest of you" card by cutting in the buffet line to get a piece of chicken for his 11-year-old son.
2. This pisses off uncle-of-the-bride, 53-year-old Curt Hughes, who is apparently a really angry son of a bitch. Uncle Curt informs Best Man Danny that he is a "fat cunt." Best Man Danny tells Uncle Curt there's no need for that sort of language.
3. Near the end of the wedding, Uncle Curt continues to complain loudly, saying he never should have come because the wedding was shit and the food was crap.
4. Best Man Danny suggests that Uncle Curt "Just fuck off then." Uncle Curt loses his shit and lands a punch on Best Man Danny.
5. The mother of the bride then shoves Uncle Curt to the exit. Uncle Curt and Aunt Elaine then started yelling at the mother of the bride, at which point sister-of-the-bride Krystel intervenes in her mother's defense.
6. Sister-of-the-bride Krystel is the next to get punched by Uncle Curt. It's a knockout punch, resulting in 20 minutes of unconsciousness and a broken nose.
7. The father of the bride is the next to try to subdue Uncle Curt. He is also the next to get punched by Uncle Curt.
8. The bride attempts to intervene, but since she is over 8 months pregnant on the day of her wedding (no judgements!), she decides she isn't in the best fighting shape and pusses out.
9. Sick of waiting for delayed ambulances, however, the pregnant bride does manage to squeeze herself behind the wheel of a car and drive her knocked out sister to hospital.
10. Uncle Curt is arrested and released on bail.
All told, Uncle Curt scored at least three confirmed hits on the bride's family, with one confirmed knockout. Whatever the criminal trial finds, it's clear that Uncle Curt is guilty of being the worst, yet most entertaining wedding guest in recent history.
(By Bob Powers)