We asked our readers if they had any stories about the 'Worst Wedding Guest' they ever saw—and the response was so overwhelming that we will be putting them out in several volumes. We're up to 5 now: 2, 3, 4, 5. In this edition, we heard from 20 people whose stories ranged from mothers-in-lingerie to coked-up employers. Thanks again to all the wonderful Someecards readers who shared their stories with the community: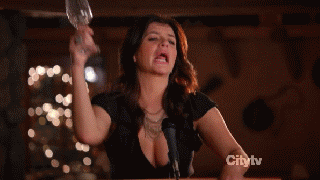 1. Michelle kicks it off with this story she emailed to us featuring the second most popular character in this series, the mother-in-law.
When I married my husband 4 years ago, my mother decided she wanted to change everything. She called the florist pretending to be me, changed the size of her bouquet so it was substantially larger than mine and changed the colors of the flowers. I didn't know this until I saw her prancing herself down the aisle.

But before all that, let me start with, she showed up late and drunk.

She then proceeded to fight because she wanted more pictures taken of her before I walked down the aisle. Then she also decided it would be most appropriate to wear a negligee (see-through nightgown). So we are already late to my wedding, wearing bedtime clothes walking down the aisle, drunk and with a giant bouquet of random color flowers. At the reception, we learned she changed my cake topper out for her own when she got married, which she smuggled in inside a shoe box. Then at the end of the night, she was so drunk she got mad we didn't want her coming with us when we wanted to leave the party and go to our room.

She was obviously the greatest wedding guest ever. At least we can laugh about it now.