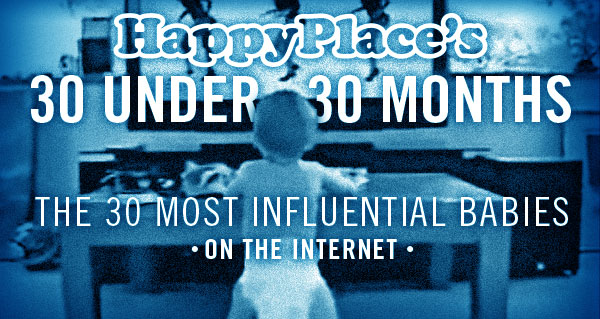 Our series on the 30 Under 30 Months: The 30 Most Influential Babies On The Internet concludes with babies 1 through 10. Last week, we brought you babies 21 through 30, and yesterday, we gave you babies 11 through 20.
It's difficult to narrow the list down to just 30 influential babies, so we use a variety of metrics including cuteness, ingenuity, and what we like to call the "wah-factor," to determine which babies deserve to be included. Their tireless work making us laugh, grimace, and go "aww" is, quite simply, exceptional.
10. Baby Cries When Her Mom Sings Emotional Song.
Why this baby matters: This baby knows the power of melody, but even more importantly, this baby knows how to get mom's singing voice out there—fast. Mama needs to get famous! Overall score: 90/100.
9. Baby's Head Almost Gets Eaten By Lion.
Why this baby matters: Unlike certain other babies who've bonded with zoo animals through their glass cages, this baby was actually treated like prey by a lion determined to get that baby in her belly. The baby's response: fearless and totally badass. Overall score: 91/100.
8. Baby Rides A Roomba.
Why this baby matters: Though there are many imitators, this is the oldest extant recording of a baby riding a roomba. Her chubby cheeks shaking as she twirls are evidence that household cleaning can be extremely cute. Overall score: 92/100.
7. Baby Sings Elvis From Her Carseat.
Why this baby matters: Someone get this baby a recording contract, because her singing voice is incredible. At the very least, this little nugget deserves to be on some sort of competitive TV show. Christina Aguilera needs to hear this! Overall score: 93/100.
6. Baby Plays By Mail Slot, Gets Hit In Face By Mail.
Why this baby matters: Is there any more poignant metaphor for the way Americans today are saddled with debt than this video of a boy being smacked in the face by a stack of bills? Kudos to this little one for bringing attention to our dangerous reliance on credit. Overall score: 94/100.
5. Baby Boy Twins Have A Conversation.
Why this baby matters: Though their language is simplistic, there's something charming about the way these boys demonstrate the importance of listening, a skillset sorely lacking among most babies today. Overall score: 94.5/100.
4. Baby Dances To Beyonce.
Why this baby matters: Queen Bey herself would have to admit this booty-shaker has some serious moves. Many babies dance, but not all babies have this much attitude. Put a teething ring on it, Mom. Overall score: 96/100.
3. Babies Taste Lemons For The First Time.
Why this baby matters: For the first time ever, our judges included a compilation video of multiple babies in their 30 Under 30 Months selection. It is not just one of these babies, but the entire phenomenon of babies tasting lemons for the first time on video that deserves special recognition. Overall score: 97/100.
2. Baby Wakes Up, Immediately Starts Dancing To Gangnam Style.
Why this baby matters: We just thought this was cute. Overall score: 98.5/100.
And the most influential baby on the Internet is...
1. Charlie.
Why this baby matters: With hundreds of millions of views, Charlie is undoubtedly the most influential baby on the Internet. He taught a generation of younger siblings that they didn't have to sit back and take it—they had teeth. His act of defiance spawned an online revolution, the ripples of which can still be felt. In a way, Charlie bit all of us. Overall score: 99.9/100.
Thanks to all these babies and others for making our mindless Internet surfing worthwhile! We'll never get those hours back, and for that, we are eternally grateful.