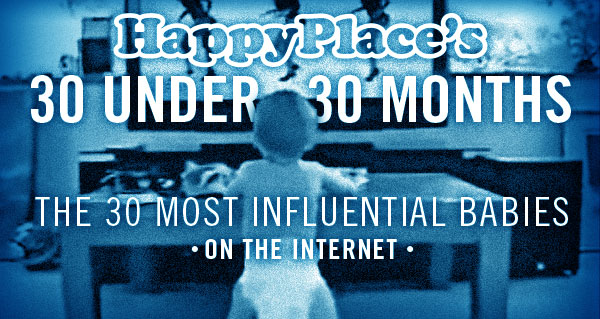 Our series on the 30 Under 30 Months: The 30 Most Influential Babies On The Internet continues with babies 11 through 20. Last week, we brought you babies 21 through 30.
It's difficult to narrow the list down to just 30 influential babies, so we use a variety of metrics including cuteness, ingenuity, and what we like to call the "wah-factor," to determine which babies deserve to be included. Their tireless work making us laugh, grimace, and go "aww" is, quite simply, exceptional.
20. Baby Tries To Say "Banana."
Why this baby matters: This baby isn't afraid to look stupid for the cameras to get a laugh. She knows, of course, that banana is a three-syllable world, but her impish little heart is full of the possibilities of making her father chuckle by saying something ridiculous. Could she be the next Lucille Ball? Overall score: 77/100.
19. Baby Teaches Dogs How To Crawl.
Why this baby matters: In the most fundamental sense, this baby is a leader. Whither he crawlest, there his dogs crawl. When he stops, they stop. When he goes, they go. His sheer charisma is astonishing. Overall score: 77.5/100.
18. Baby Tricked Into Eating Vegetables By Her Dad.
Why this baby matters: Could this baby be the answer to our nation's obesity epidemic? We already know American children test less well than children in other countries. Are they stupid enough to fall for this trick at even the age of 9 or 10? Maybe we can use their gullibility to our benefit!  Overall score: 79/100.
17. Baby Laughs At Dog Eating Popcorn.
Why this baby matters: This baby's laugh may soon be monitored by the CDC because it is infectious. Perhaps YouTube commenter Dank 24 put it best when he or she wrote, "What kind of a-hole dislikes this?" Overall score: 81/100.
16. Baby Poops On Dad's Leg While Naked After Bath.
Why this baby matters: We applaud this baby's complete lack of concern for societal restrictions and norms. He isn't afraid to get messy, but makes sure to keep his nasty business off camera, while he illustrates an important point about social pressure and the innate wildness of humanity. Overall score: 82/100.
15. Baby Waterskies.
Why this baby matters: When this video first came out, it caused any uproar. "Babies can't waterski!" people said. "Babies aren't big enough!" This baby simply laughed, yelled "faster!" and rode off as the sun set over the lake. Overall score: 83/100.
14. Baby Cracks Up When His Dad Tells Him To "Stop."
Why this baby matters: The so-called authorities may not like this one, but we applaud this baby's willingness to laugh in the face of officialdom. The rules don't matter to this baby, and it shows. He may not be an anarchist, but he's prepared to fart in public if need be. Overall score: 85/100.
13. Baby Performs "Mina Mina" With Dad."
Why this baby matters: While this baby's musical talent is evident, the real reason she made the list is because of her willingness to humor her dad. We've had a few rule-breakers on the list, but our civilization also needs babies who can work together in order for the species to thrive. Overall score: 86/100.
12. Baby Does A Trick Shot.
Why this baby matters: One of the better known babies on this list, "The Trick Shot Kid" found his place on this list through athleticism and sheer consistency. Time and time again, he delivered. Someone better draft this baby before he peaks. Overall score: 88/100.
11. Baby Takes First Steps, Dog Poops, Baby Falls In The Poop.
Why this baby matters: In the great tradition of the Three Stooges and Laurel and Hardy, comes a baby with a knack for physical comedy. The trick comes not just in the baby's willingness to fall down over and over again to get a perfect take, but in the surprise element of the dog's behavior. Absolute comedic genius! Overall score: 89/100.
Stay tuned for the next 10 30 Under 30 Months babies on Tuesday!