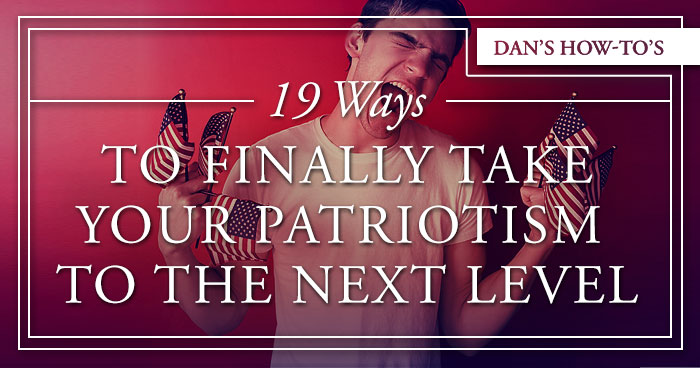 Every year, you go through the motions: put out the flag, put on some red, white, and blue, and ooh and aah for the fireworks. Isn't it about time you made your love for this country make a difference? Here's how you can channel that patriotism into action:
Buy several American-made cars.
Dismantle the racist, for-profit prison industrial complex while wearing an American flag bandana.
Call up your congressperson and see what they're wearing.
Teach a bald eagle why it doesn't matter whether Hillary Clinton has a grandchild.
Paint your nails red, white, and blue and use them to gouge out a central banker's eyes. If he can't see why gold still matters, he doesn't deserve to.
Queer Mt. Rushmore.
Cultivate the West.
Support American workers by patronizing American Apparel. In these turbulent times they need you now more than ever.
America has a rich tradition of invention stretching back to Benjamin Franklin. Now, it's your turn. Invent something cool, like a sword that's also a wolf.
Be a conscientious citizen and study up on which civil liberties you still have. Don't worry, it won't take long.
Find out what an alderman is.
Buy war bonds.
Walk Boston's famous Freedom Trail and spend the whole time asking if you'll get to touch the freedom.
Tell your children the tale of Paul Bunyan, his mighty blue ox Babe, and the pant-pissing terror they inspired across this noble land.
Visit one of our nation's incredible national parks to kickstart the entrepreneurial spirit that made this country great. Imagine how many Sunglass Huts you could build there!
Throw the Liberty Bell in a gulch. Fuck that cracked-ass bell, we don't need it.
Swing by your local armed forces recruiting station and see if you can't sell them on this whole Iraq thing. It's best two out of three, you guys.
Make an American flag out of real stars.
Barbecue. Maybe it's helping?
(Dan Abromowitz doesn't know how to do anything. Follow him on Twitter.)