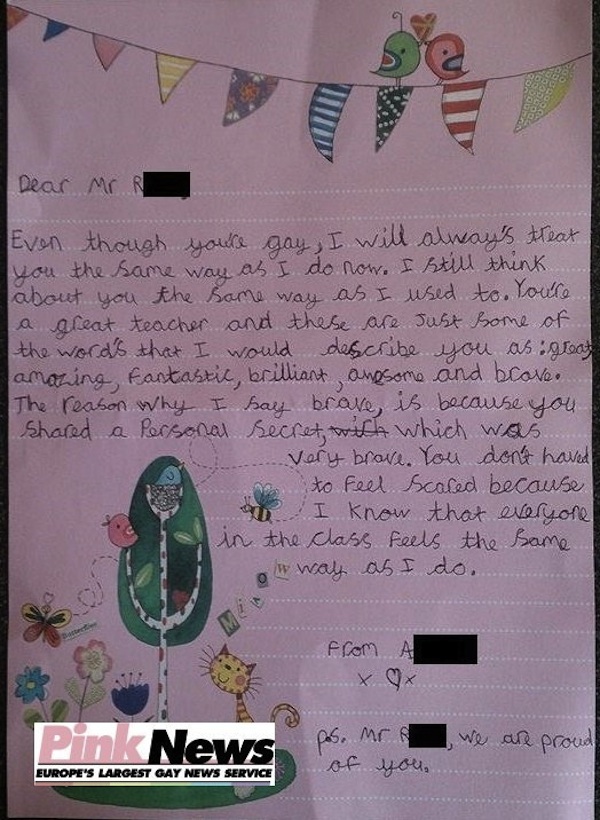 "Only bad thing about you is you haven't taught me how to use apostrophes."
(via Pink News)

As part of a weeklong anti-bullying campaign, a teacher at a school in England asked his students if they'd ever heard the word "gay" used in a derogatory way. "Almost every one of my class put their hands up. I was stunned," the unnamed teacher told Pink News, though if you've ever spent more than five minutes with a group of fourth graders, you're probably not as stunned as he was.
The students also all raised their hands when their teacher asked if they thought there was something wrong with being gay. The teacher had never mentioned his sexual orientation, even though his colleagues mentioned their "husbands, wives, and significant others all the time." He decided to get his headmaster's support to tell his students he was gay, "so they at least knew one gay person."
With the headmaster's support, the teacher came out to his class. "The reaction was fantastic—there were lots of gasps and shocked looks and some basic questions—do you have a boyfriend, etc—but after a couple of minutes they were over it and we moved on to the rest of the lesson," he said to Pink News.
Then, a couple of days later, this letter appeared from a 9-year-old girl in his class who wanted to make sure her teacher knew how "brave" he was. She writes, "I will always treat you the same way as I do now" and told him not to "feel scared because I know that everyone in the class feels the same way as I do." (Perhaps she took her own informal hand-raising survey.)
The teacher was touched by her letter, and loved that he is now able to "mention [his] fiance as easily as any other teacher." No report on whether his students have stopped using "gay" as an insult, but let's take this one step at a time.