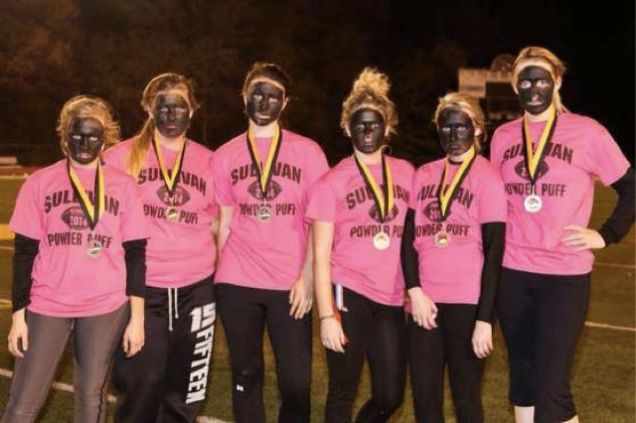 Hey, girl in grey pants: you're not matching.
(via The Riverfront Times)
I never thought I'd say this, but I'm a little exhausted by suburban teenagers not realizing blackface is a bad idea. This story is unique, however, because of the true depth of their ignorance (or the ignorance they are wisely now feigning). It's one thing to be dumb enough that you think wearing blackface is funny, but one Powderpuff girls' football team at Sullivan High School near St. Louis are sticking to the story that they didn't even realize they were wearing blackface when they painted their faces black. And apparently, everyone who was witness to this event completely agrees that the girls were 100% not aware of any kind of local, historical, political, or racial associations or implications or anything at all, really, when they came onto the field. This football team is running the stupid defense and running it hard.
Don't misunderstand, at first, people were shocked. School principal Jennifer Schmidt told the Riverfront Times that her first reaction was "Oh my gosh." Shocked. Fortunately, she was able to see past the twelve white girls in full black makeup to see what was really going on: fun. 
"And then I thought, 'Oh, they don't mean anything by it. Just let it go. No one thinks anything of it.' I didn't think anyone did. Evidently, someone did."
Whether or not Schmidt personally thought something of it, I'm shocked that she's a principal who passed up an opportunity to give 12 senior girls detention. Oh yeah, did I mention they were all seniors? As in, should be old enough now to know better? They were playing the freshmen in an intramural game, which is what led them to take this picture with a bloody freshman jersey.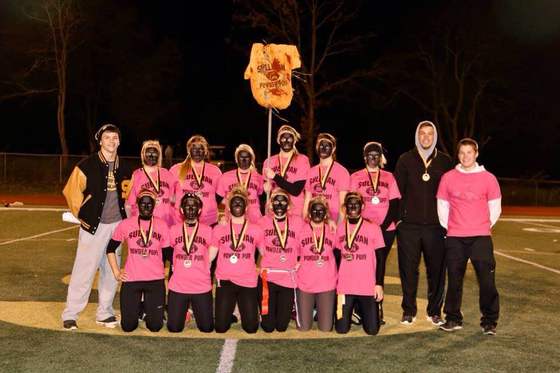 You set out to be a Senior class people remembered. You succeeded.
(via The Riverfront Times)
According to Schmidt, here's what happened: most years, the girls paint their faces black and gold (the school colors). This year, when they all showed up to the game, they discovered that no one had brought any gold. "So that's what they wore. There was nothing racial about it. They didn't have any other intention other than to just try to intimidate the underclassmen" with their black faces. OK. So you're saying you were responsible for the education of a group of 17 to 18-year-olds who failed to realize any problems that might come with wearing full black facepaint? I just want to make sure you realize you educated them to this point.
"I can assure you they will not be wearing black face paint again," Schmidt assures everyone. "In fact, we're probably just going to end the face-paint thing, and nobody wears any at all." 
The game is organized every year as a sort of fundraiser for the school, and each grade fields a team while the boys' varsity team referees the games. Next year, the girls plan to forgo the makeup tradition. Apparently, incorporating gold so it stops being blackface is too risky. 
Since it's a fundraiser, though, may I recommend using the proceeds to bring back social studies? Civics? History? What about AP Not Getting Your Blackface Photo Circulated On The Internet? Just a thought! Maybe you wouldn't have to ban face-painting if your students, who live 60 miles from Ferguson, had any clue why they shouldn't do that.
I'm not talking to anyone, am I?
(by Johnny McNulty)