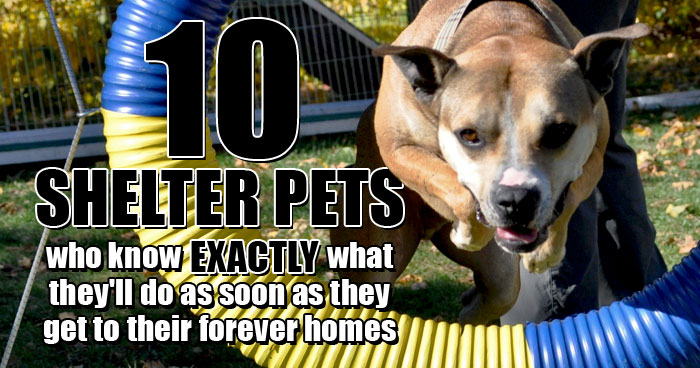 As long as the Internet continues to use cute pictures of cats and dogs for Internet memes, why shouldn't they also be used to help animals find forever homes? We teamed up with animal shelters across the country to get pics of real dogs and cats waiting to be adopted, and we turned them into shareable meme images, complete with each pet's details and adoption info. Here now are 10 shelter pets who know exactly what they'll do as soon as they get to their forever homes! Click on the links below each image to find out how to adopt these adorable pets today.
Adopt Bethany at Dupage Animal Control in Illinois.
Adopt Lucy at Animal Haven NYC.
Adopt Boone at Give Me Shelter in San Francisco.
Adopt Jax at PawsCo in Denver.
Adopt Cooly at the Washington DC Humane Society.
Adopt Neely at MSPCA Boston.
Adopt Cuddles at ACCT Philadelphia.
Adopt Pumpkin Spice at the Washington DC Humane Society.
Adopt Leo at Give Me Shelter in San Francisco.

Adopt Josephina at Animal Haven NYC.

The Shelter Pet Project is the result of a collaborative effort between two leading animal welfare groups, The Humane Society of the United States and Maddie's Fund, and the leading producer of public service advertising (PSA) campaigns, The Ad Council. Our goal is to make shelters the first place potential adopters turn when looking to get a new pet, ensuring that all healthy and treatable pets find loving homes. We do this by breaking down misconceptions surrounding shelter pets and communicating that "The only way to find out how amazing shelter pets really are is to meet one." Find many more adoptable animals on www.TheShelterPetProject.org.