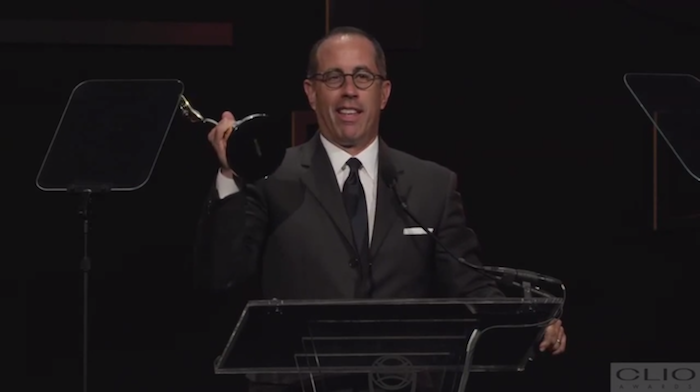 "What's the deal with these transparent podiums in front of a black background?"
The Clio Awards are pretty much the award in advertising, by which I mean there have been many name-drops and an entire episode in Mad Men about the Clios (Don Draper won one, you guys). Of course, advertising is advertising. It's creative, but it's also the subjugation of creativity. It deserves recognition, but it's important not to let the industry forget that they are lubrication that lets corporations insert their products into your brain. And Jerry Seinfeld does not let them forget that as he accepted his Honorary Award for his recent Acura commercial. His sarcastic praise of the industry bit in with all the sharpness and precision of an X-Acto knife. "I love advertising because I love lying," he semi-joked, before thanking advertisers for giving us sublime moments of illusory happiness between the time we see their ad and when we are faced with the disappointing reality of the product.
And you know what? He's right. Everything sucks and you may as well enjoy the brief moments of amusement and happiness you get, even if they're completely artificial. So, go ahead and scroll down and enjoy our many moments of brief amusement that will distract you from your long, slow trudge towards oblivion. 
Oh, by the way, if you've never read about what happened at the 1991 Clio Awards, you should read the Wikipedia entry for how the owner of the Clios became addicted to drugs, forgot to pay for the television coverage or organize a host for the event, leading to a 2-hour delay and several fill-in speakers who got frustrated and eventually left, ending in the dogpile on stage to grab unclaimed trophies. Yay, humanity!
(by Johnny McNulty)