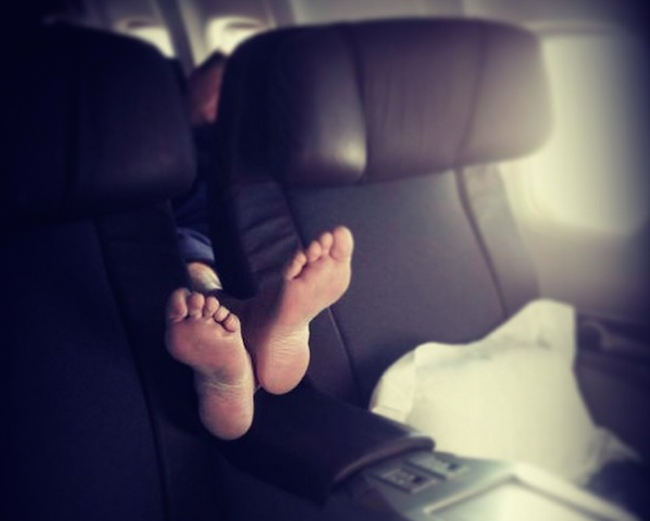 Surprised anything that nasty made it through security. (via)
The debate that's been raging lately over whether or not it's okay for plane passengers to recline their seats may never be settled. At least, until the airlines decide to settle it the debate by locking the seats upright and moving every row 3-inches forward in order to squish one more row of miserable fliers onto the plane. Many instances of awful behavior will never be regulated, because rules can't possibly keep up with the increasingly inventive ways people comp up with to be "that asshole" on the plane.
That's what's so great about the Passenger Shaming Instagram account, dedicated to calling out those one or two thoughtless dickheads the rest of us have to deal with every time we fly. Let's hope it becomes popular enough that at least some people will think twice before acting like chimps, but not so popular that it leads to even worse people saying, "Dude, take my picture--this is going straight to Passenger Shaming!"

He can't even go into a 7-Eleven like that.
.

Too bad that scissors aren't allowed anymore.
.

"The Captain has requested that you stop masturbating."
.

"Mind if I recline my entire body?"
.

"Careful, shorts may have shifted during the flight."
.
For more fantastic examples of how not to behave on a plane, check out Passenger Shaming.
(by Jonathan Corbett)