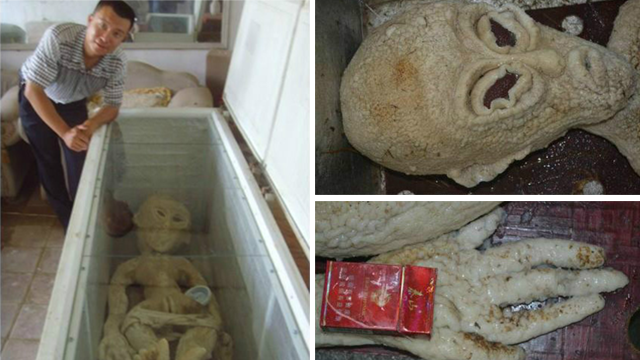 Watch out, America. China is aiming to replace us as #1 in believing dumb alien hoaxes.
Would a man in a crisp short-sleeved striped shirt lie to you? Of course not, and that must be the reason that Sina Weibo, the Chinese equivalent of Twitter, fell for this obvious fakery hook, line, and sinker. The man, known only as Mr. Li, claims that he was fishing down by the ol' Yellow River when suddenly he felt there was a light behind him.* According to The Shanghaiist and the mangled Google translation we got from the Guizhou Metropolis Daily, a UFO crashed down and five aliens got out. As Mr. Li lay down (we think) and hid, one of them walked into an electric rabbit trap he had conveniently set up earlier. And after travelling billions of miles to get out and stretch his or her legs on our planet, it promptly died in said electric rabbit trap, after which its four companions got back in their spaceship and left their dead comrade to rot on our planet.
Except it won't rot because police determined, presumably after poking it, that it was made of "high-quality rubber." Which would also make electrocuting it really hard.
*(Cue Little Shop of Horrors song, "Well, do you remember that total eclipse of the sun about a week ago? Da doo")