Finally, a way to find out whether aliens are overhead without actually having to go outside.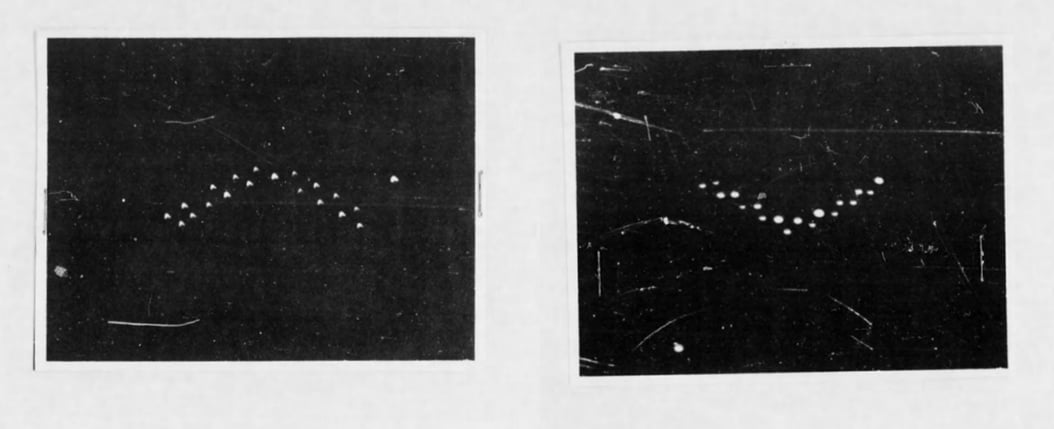 Pictures of migrating birds with reflective white breasts over TX...if you trust the gov't.
(via Project Blue Book)
If you've got a weird uncle, chances are you've heard of Project Blue Book (not to be confused with the blue book project your skeezy cousin has on the side selling essays to college kids)—a.k.a. the Air Force's master file on the aliens that constantly patrol our skies. Now, a website called The Black Vault has republished them online, and we can all be crazy uncles together.
The project ended officially in 1969 after analyzing 12,618 sightings and declaring all but several hundred "explained." They also never determined any report to be a legitimate national security threat (because how could they be a threat when the aliens already run the country?). The Air Force still handles all UFO reports today, but they have wisely stopped putting their files in a famous book that weirdos ask for by name.
Hiding in plain sight...just like the aliens.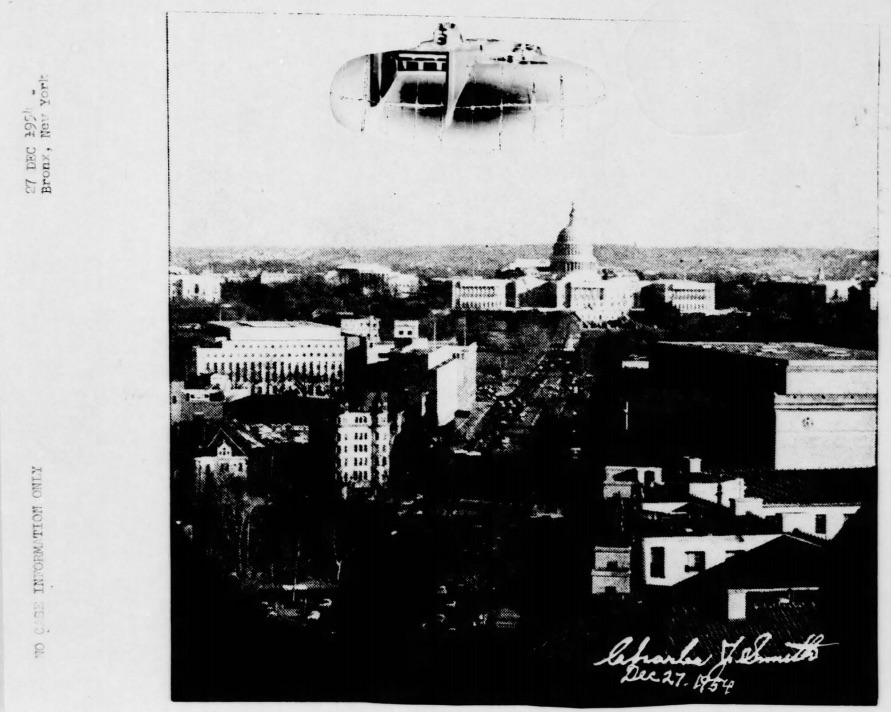 Since then, we have developed technology for cloaking. We have not, on the other hand, developed adorably fat steel blimps shaped like the Yellow Submarine. (via)
The Blue Book files were made public afterwards thanks to a Freedom of Information Act request—however, you could only see them by traveling to the National Archive in person and reading them yourself. Given the attention span of the average American, this ensured they remained top secret for decades... until this week.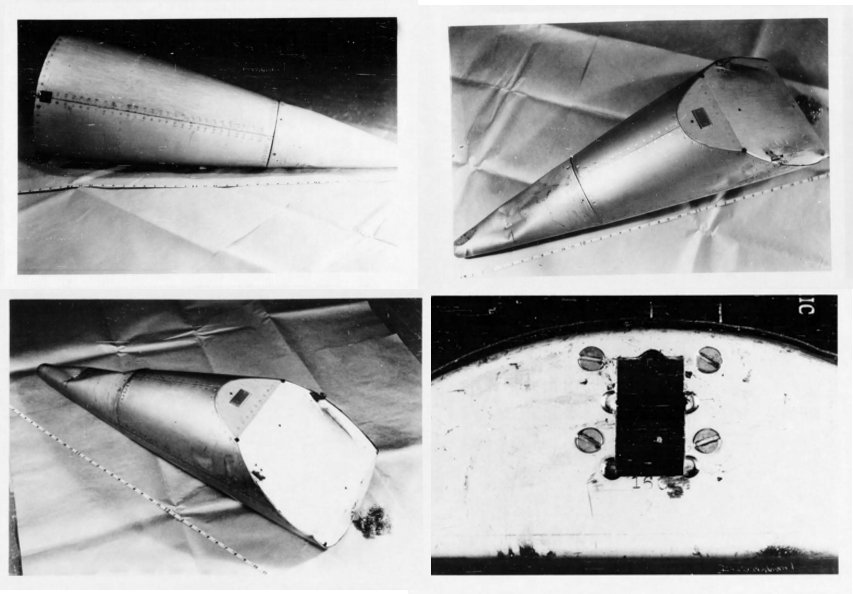 You know what civilization is too advanced to use rivets like these? Ours in 2015.
This object is probably a nuke the Brits accidentally lost in Canada. (via)
Now, for the first time, all the official documents pertaining to Project Blue Book—almost 130,000 pages of original photos, notated photos, and Air Force analysis—have been made available to the public online. This is thanks to efforts of John Greenewald, the UFO buff who runs The Black Vault.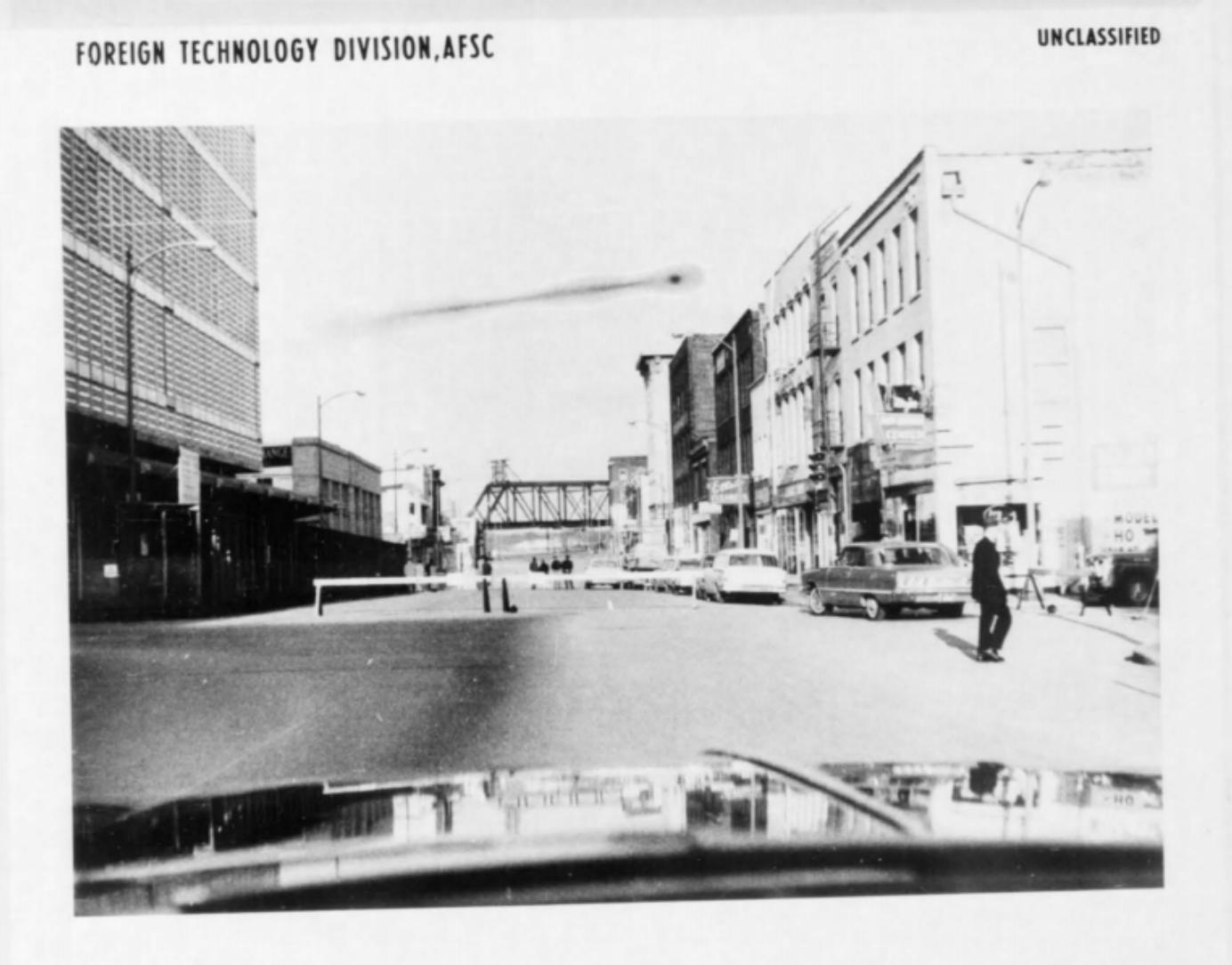 On April 15, 1965, something really cool happened in Omaha, NE. That by itself should be proof that something unusual was going on. Maybe it was a fiery meteor like the one that exploded over Russia? (via)
Greenewald spoke to NBC news and said that his goal was first to "give the public the easiest way possible to access these things," and second to make people seek out even more, as-yet-unclassified UFO documents. Even though he is obviously very interested in this subject, Greenewald has still been taken aback by how viral his website has gone. "People are coming out of nowhere to look at this thing and it has definitely surprised me quite a bit."
Roswell is still blacked out (fortunately).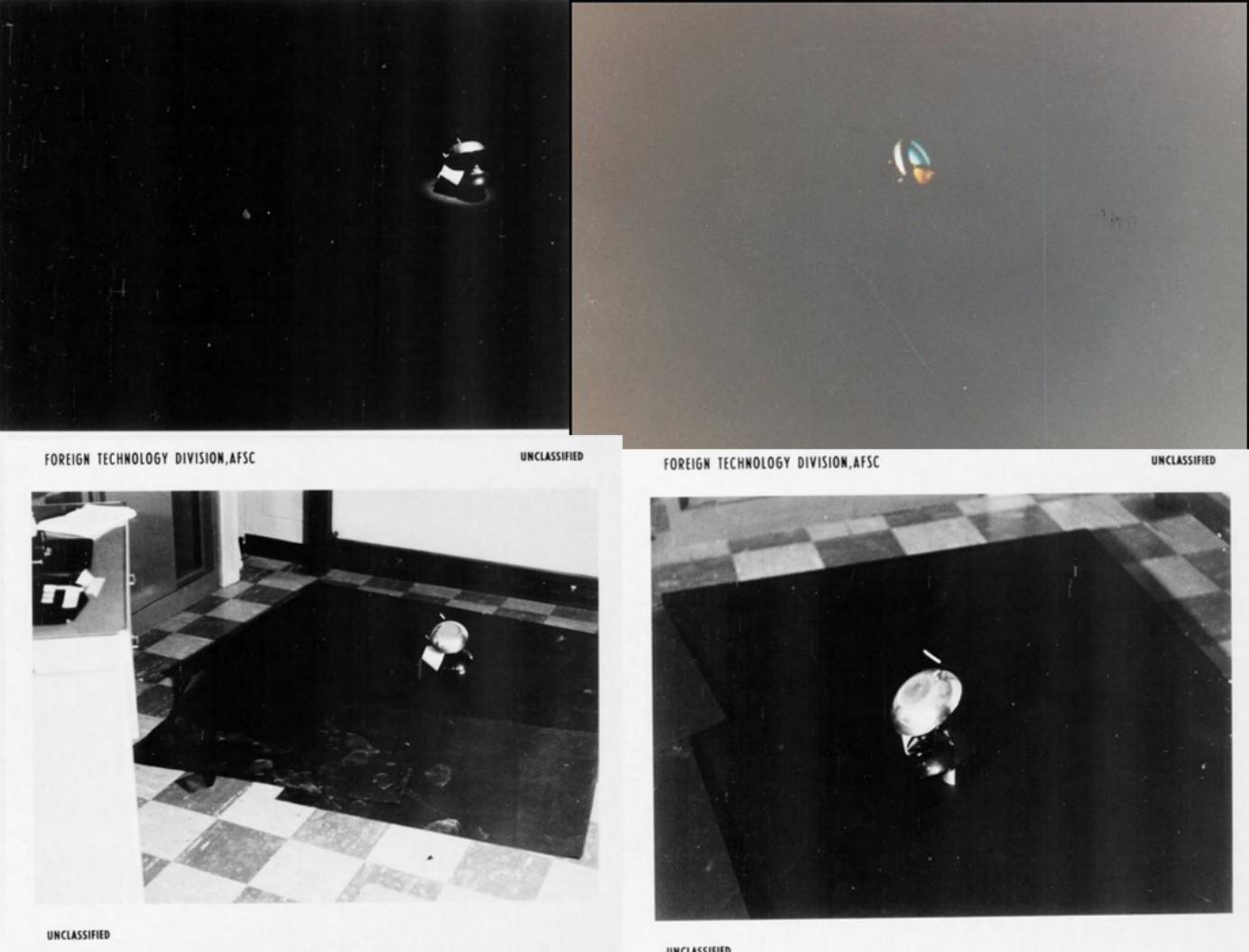 The original photo (top-right), taken by a 14-year-old, looks like either a spaceship or a Simon Says toy. The other pictures are Air Force recreations to prove it was faked. (via)

Greenewald must be spending too much time thinking about aliens from space, because as someone who spends their time watching humans on the Internet, I can assure you that this is totally normal behavior. I am excited, though, to see how his work will affect Internet comments and low-budget YouTube documentaries for years to come.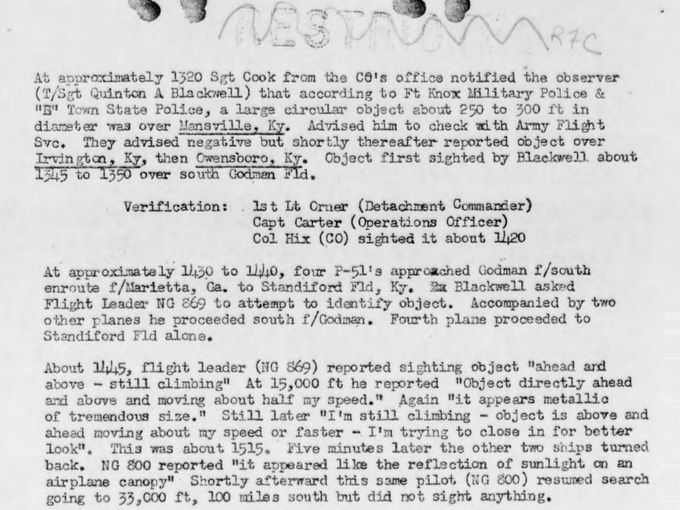 The files even include exotic "written reports" from pilots, like this one from a Godman Air Force Base pilot in 1948. (via)
There is one report that does not appear in the file—that of the infamous 1947 "Roswell Crash," where the US government allegedly recovered alien bodies from a spaceship crash in New Mexico. The National Archives insists that, as far as they know, there has never been such a report (although there are reports from later years that also take place in Roswell).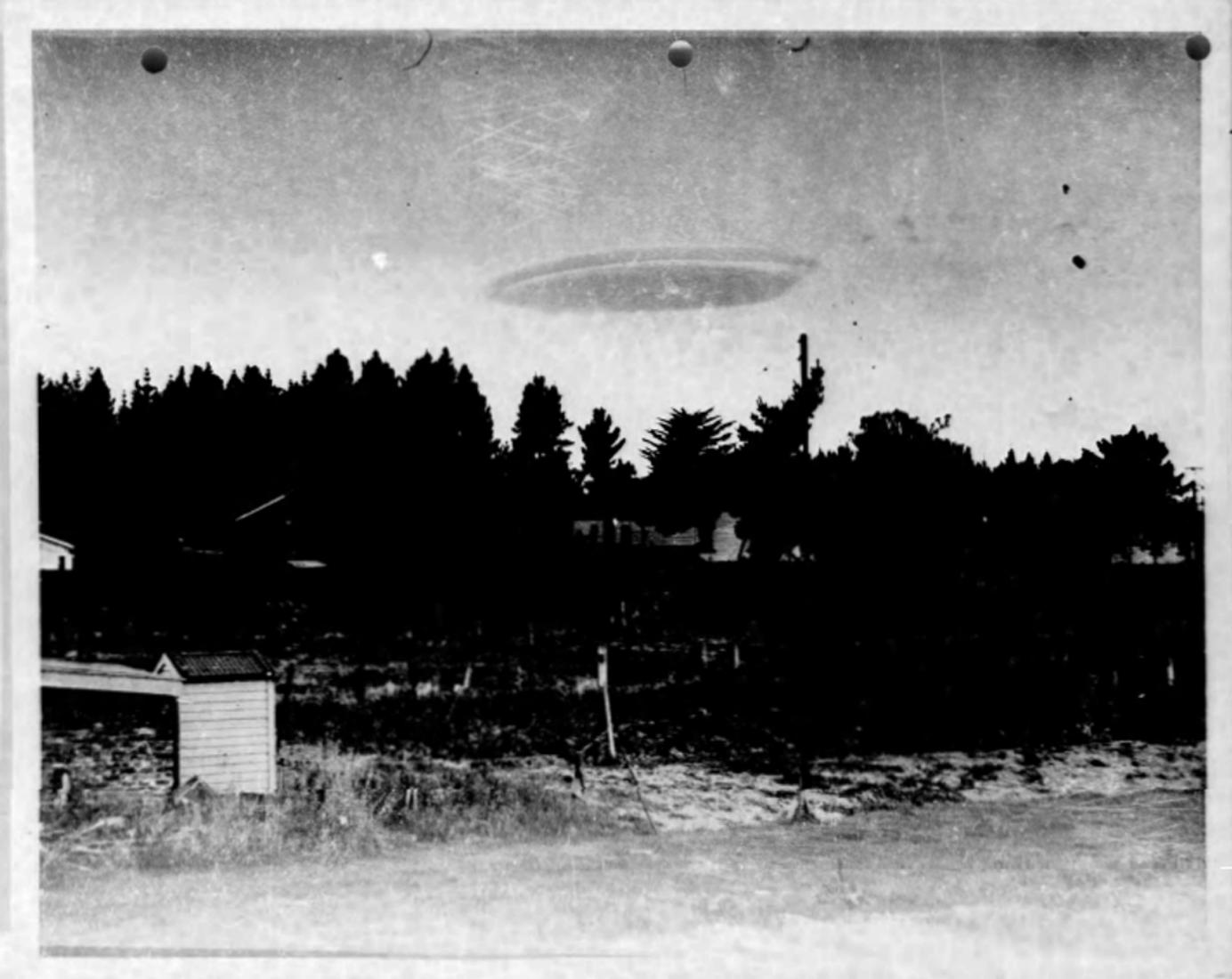 In 2015, it's a lot easier to disprove this by finding other photos of these weird Lenticular clouds...or is it just easier to pretend that UFOs are clouds? (via)
I'm glad that Roswell is still classified—without that one thing just out of conspiracy theorists' grasps, what are they going to reach for? I, for one, cannot imagine an Internet where crazy-talk is dominated only by Illuminati hand-signals and shapeshifting lizard people. I still believe...in the capacity for flying saucer fans to regain their spot at the top of the conspiracy pyramid (which were built by aliens, fyi).