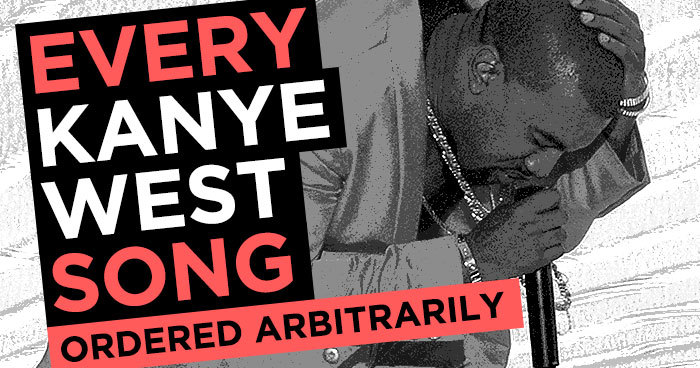 Kanye West is an artist, a visionary, a madman, and an icon, and in a decade he's produced a body of work as vast and contradictory as the man himself. Some look at his work and see an opportunity to pull in pageviews by making order out of the chaos. Over here, we prefer to revel in the fickle vicissitudes of Lady Fortune. So, after a lot of argument, here it is: the DEFINITIVE arbitrary ordering of every song on every Kanye West album (sorry, Watch The Throne/GOOD Fridays/skit lovers, this ain't your list).
See where your favorites ended up for no knowable reason beyond the whims of this beautiful universe, and duke out where we went wrong in the comments.
Diamonds From Sierra Leone Remix
Celebration
Roses
Guilt Trip
Heard Em Say
Runaway
New Slaves
Bound
Bring Me Down
Devil In New Dress
Crack Music
I Wonder
The Glory
So Appalled
Everything I Am
See You In My Nightmares
Can Tell Me Nothing
Drunk And Hot Girls
Hell of A Life
Blood On The Leaves
Black Skinhead
Homecoming
Jesus Walks
On Sight
Monster
Hold My Liquor
Welcome To Heartbreak
We Don't Care
Good Morning
Dark Fantasy
Paranoid
Good Life
School Spirit
Drive Slow
Get Em High
Two Words
Champion
Lost In The World
Love Lockdown
Gold Digger
Send It Up
Street Lights
The New Workout Plan
Hey Mama
Gorgeous
Power
Stronger
Slow Jamz
We Major
I'm In It
Family Business
Last Call
I Am A God
Coldest Winter
Say You Will
Breathe In Breathe Out
Bad News
Gone
Blame Game
Spaceship
Touch The Sky
All Falls Down
Big Brother
Addiction
All Of The Lights
Amazing
Heartless
Robocop
Barry Bonds
Through The Wire
Never Let Me Down
Flashing Lights
Follow Dan Abromowitz on Twitter.