Here's the fakest fake baby ever to appear in an Oscar-nominated film.
(UPDATED: The original clip we posted got taken down, but the Today Show has us covered.)
Skip American Sniper? That's okay. All you need to know is that it had the most unrealistic plastic baby of all time.
Based on these 74 seconds, you may think the movie was a comedy.
It literally looks like a doll a PA picked up at Walmart. Surely somewhere in the film's $60 million budget, they could have set aside a little for a real baby actor? Or at least a better fake baby?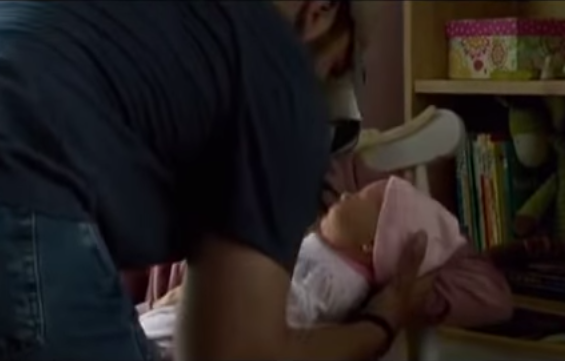 You guys have bigger problems than you ever imagined.
Well, according to screenwriter Jason Hall, the budget wasn't the issue. In a tweet he has since deleted, he explained:
hate to ruin the fun but real baby #1 showed up with a fever. Real baby #2 was no show. (Clint voice) Gimme the doll, kid.
As fun of a scene as that is to imagine, surely in a big Hollywood production like this, there's a baby #3? No? Well, next time maybe try putting a blanket around that doll.