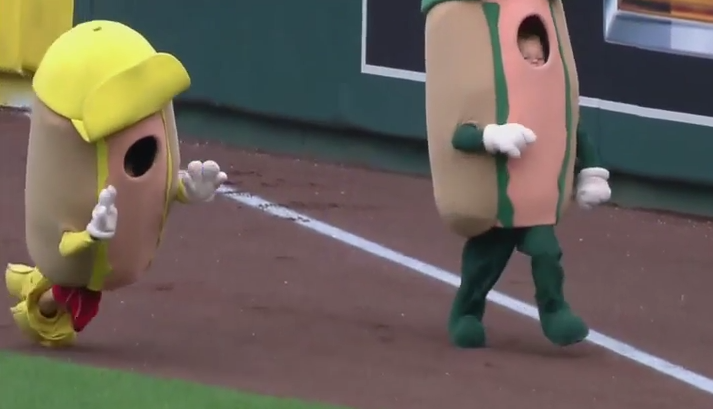 The very moment this kid's life started going off the rails.
You ever have one of those dreams in which you're dressed as up as a giant hotdog, and you're racing two other enormous anthropomorphic hotdogs for the entertainment of a stadium full of baseball fans, but your mustard-colored pants keep falling down to your ankles and you continuously fall down over and over and over again? Yeah, this one right here:
The waking nightmare you're witnessing here happened to some poor kid during a "Hot Dog Derby" at the Kansas City Royals' Kauffman Stadium. The way this works is three small children with an apparent excess of self-esteem get shoved into some hot dog costumes—colored yellow, red and green, for mustard, ketchup and relish—and are then coaxed into a foot race for all the drunk adult people in the stadium to enjoy.
The pants-falling-down part isn't an official aspect of the "Hot Dog Derby." It's just a fortunate occurrence that happens now and then. This young man is just fortuitous enough to be the one it went viral on.
I have a feeling that this kid's gonna make some lucky psychologist very happy one day.
(by Dennis DiClaudio)