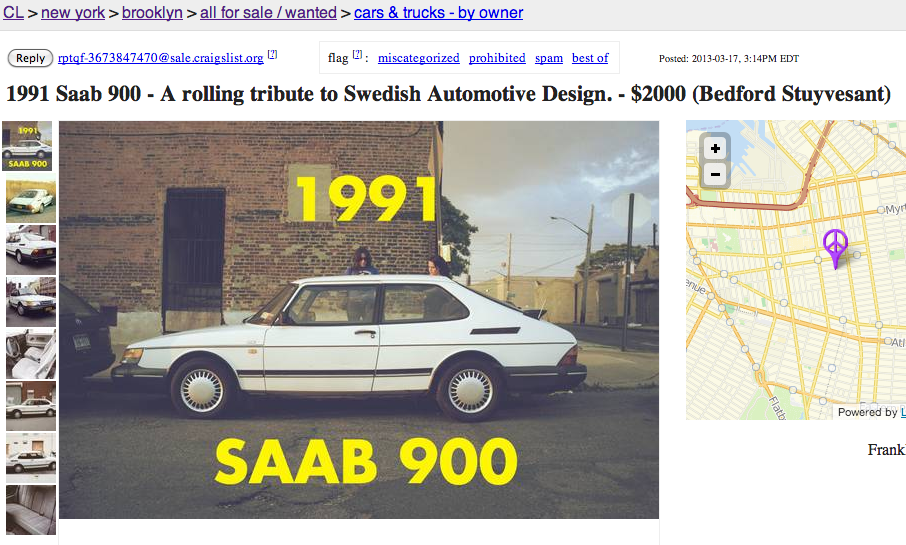 Will only sell to Steve Zissou, or his first mate.
We live in Brooklyn, not far from where this "rolling tribute to Swedish automotive design" is for sale. Within walking distance is an artisanal mayonnaise shop, which is nothing but a tiny storefront, usually staffed by two skinny 24-year-olds with magnificent hair,  who spend all day sitting behind eight tiny jars of flavored mayonnaise, which you can sample on tiny spoons. The below excerpts from this enjoyable, tongue-in-cheek, so-pretentious-you-want-to-punch-the-Saab-in-its-nose Craigslist ad might seem a little over the top, but this is how you have to sell a car if you want to sell it in Brooklyn. Let's do some red-lining to take a closer look:
We looked at the main photo and immediately saw the influence of Wes Anderson in this Saab-seller's design. So we were pleasantly surprised, and impressed, to be greeted by an overt reference to Noah Baumbach's The Squid and the Whale, which somehow manages to thicken the pretentious sheen of the overall aesthetic.

Fixed gears! The Brimfield! An authentically cracked dash! The Saab-seller is working very tongue-in-cheek, pushing buttons with great prejudice, begging you to shake your fist at hipsterdom in all its colors. You want to look away, but you shan't.

An obscure Vonnegut story, printed of course, because words that speak to the theme of this vehicle need the heft of a page in which to nestle. Go out by the airport if you want a used car salesman who'll forward you complimentary short stories in digital files you can read on a cellular phone. Our repugnant Saab-seller wouldn't dream of such a thing.

Is your personal brand at a Swedish design stage? Take it for a test drive. Make sure you instagram the shit out of every mile.