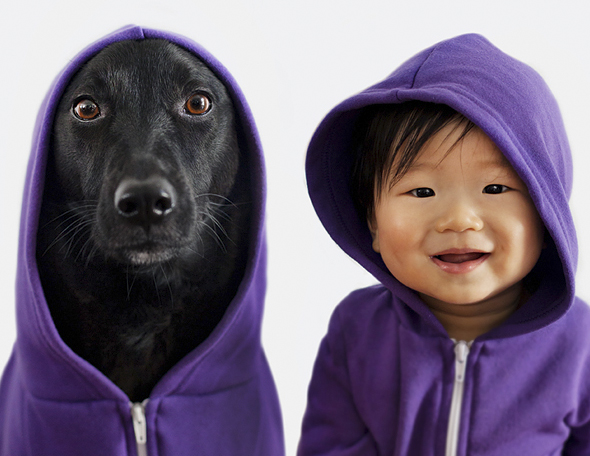 Grape-flavored Jawas. (via)
Grace Chon is a commercial dog photographer with an adorable 10-month-old baby boy named Jasper and a beautiful black 7-year-old rescue dog from Taiwan named Zoey. Obviously—I mean obviously—she's going to dress them up in matching outfits and photograph them for a Tumblr side project she created for the well-being of all humanity. Because of course!
Okay, so, that's all well and good. And, yes, she has given us lots of painfully cute pictures of a baby and a dog to look at. But it really leaves us holding the bag to have to decide which one of these two little monsters wears their fashion better in each picture. This is difficult stuff. I mean, look at that one up top. We have to choose which one of those two looks more delightful in a purple hoodie?! A purple hoodie!!! Fine! Let's do it. Jasper looks charmingly casual in his offset hood, but just look at Zoey's soulful eyes as she peers out from the shadows of her lavender cowl. 
Winner: Dog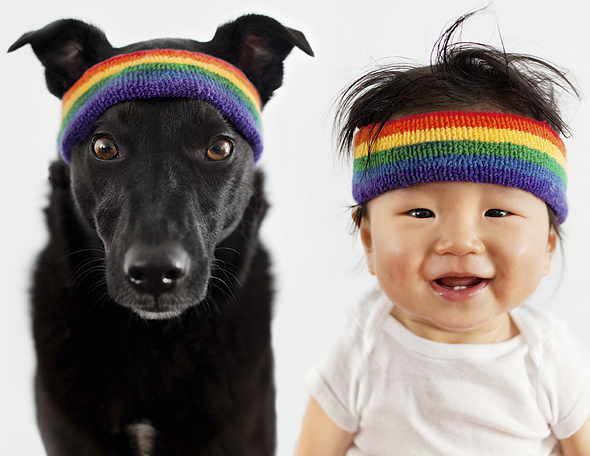 (via)
Ah, look at Zoey trying the eye thing again. Clearly she doesn't realize that a model should draw too often from the same well. Doesn't matter anyway. Nobody was gonna beat Jasper with that shock of disheveled hair erupting from his rainbow headband.
Winner: Baby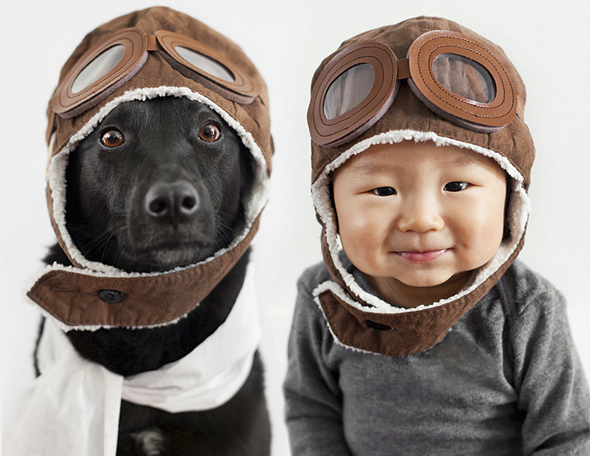 (via)
Unfair, Zoey! Unfair! Where'd she get that kerchief? Whether she realized she was playing dirty or not makes no difference. As soon as we started imagining her looking rougish with that white cloth flapping in the wake of her Standard E-1 fighter plane, Jasper had no chance.
Winner: Dog
 

(via)
Even Zoey seems kind of shocked that Chon somehow managed to get this Princess Leia towel configuration on her head for more than three seconds. But look at the expression on Jasper's face. That is the kind of satisfaction that comes with victory.
Winner: Baby
This is getting nerve-wracking. It's all tied up as we head into our final contest. It's anybody's game!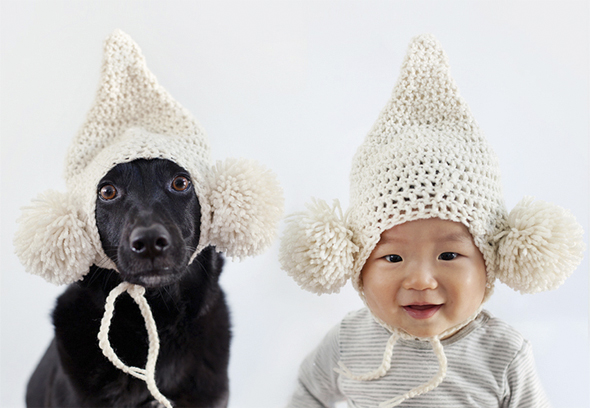 (via)
I'm sorry. I'm sorry! But there is no person with a beating heart who can take a look at these two in their pointy knitted caps with pom-poms on the ears and make a choice.
IT'S A TIE!
See more pictures of Zoey and Jasper on Grace Chon's Tumblr page.
(by Dennis DiClaudio)